Review: Brother HL-2170W Wireless Laser Printer
Two years ago I wrote one of my most popular articles, A Realistic Back to School Guide for College Students (and off-campus edition). In it I talked about how great cheap black and white laser printers were for the college student or pretty much anyone that isn't printing out color photos (I leave that to Flickr Prints anyways):
Printers are the one item you can technically do without in college and be okay. Most, if not all, universities let you print out at the library, although you are likely on a quota, such as a max of 10 pages may be printed during any one week. If you don't like making 3am runs to the library to print off a report, then getting a printer is for you. Considering that most of what you print will be PowerPoint handout slides and papers, it is best that you get an affordable black and white laser printer.
For the last 5 years I have been using a now discontinued HP LaserJet 1012 that I found for just 100. Since then I have run 3 or 4 toner cartridges through it, each with a lifetime of about 2,000 pages, so I have definitely put it to good use. However, when it came time to replace another toner cartridge, which sells for about 70 USD from HP (or ~25 for a generic brand), I decided to see what other laser printers were out there. The HP I have is still in perfect working order but the lack of networking was a bit of a turn-off.
A quick search later and I ended up with the highly-ranked Brother HL-2170W laser printer that I snagged on Amazon for about 120 USD. The HL-2170W's Wi-Fi and Ethernet support made this an easy decision.
The Brother HL-2170W tucked away in my little closet office, thanks to Wi-Fi.
Setup
Traditionally, getting a regular printer on a network has been a hassle. I remember having to purchase various USB to Ethernet adapters, none of which worked, trying to get an HP multifunction printer on a network. With printers that support networking natively, all you need to know is the printer's IP address and ensure that you have the printer drivers installed on all client computers — something I learned while spending much time at high school as a "computer guy" working with huge 4000-series HP LaserJets and trying to network them with everything from G3s, G4s and G5s to 166 MHz Windows 95 boxes.

Fortunately with this printer, setup was a breeze and I had 2 computers printing over Wi-Fi in 10 minutes.
With Mac OS X, the printer was immediately detected with Bonjour after I temporarily hooked up an Ethernet cable during setup. After I added the printer and installed the supplied software I was able to provide it with the login credentials for my Wi-Fi network.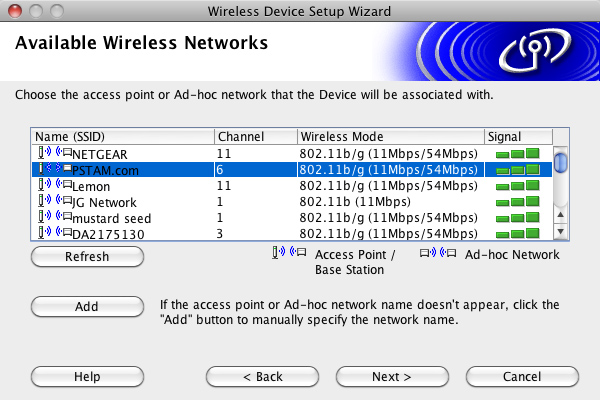 Dense apartment complex = tons of Wi-Fi networks
Windows 7 installation was a 2 minute ordeal. No drivers necessary.
You don't need to install the software to setup the Wi-Fi network though. Just browse over to the printer's IP address, which you can find by logging into your router and viewing the DHCP clients table, and use the default login of "admin" with password "access". From there you can configure the wireless network information, and more importantly change the network name of the printer from the default "brw00242b547878" to something cool like AdmiralAckbar or NeilPatrickHarris.
Brother HL-2170W web interface
Other things you can do in the web interface include setting up an email address for the printer (haven't tested this out - does it mean it would print anything you email it?), adjust printer settings like toner save as well as print resolution, and check on toner life.
Mac OS X Printer Settings for Brother HL-2170W
Setup was a pleasant surprise and I was up and running in just a few minutes. Afterwards, I moved the printer away from my desk and into my closet. I used to have a shelf under my desk to store my old USB-tethered printer and that was always an annoyance.
Performance
The official specs state that the 2170W boasts a speed of 23 pages per minute. Quite the improvement over my old HP's claimed 15ppm. So how does it stack up in the real world?

To test this I ran a few print batches. Laser printers require a bit of time to warm up and get going, so that's why the "first page out" metric is pretty important. I ran four batches with two different types of documents. The first batch was the first 30 pages of Why's Poignant Guide to Ruby - a PDF composed text and images. The next batch was 30 text-only pages of Paul Graham essays. Then I did one batch to see if the "toner save" feature saved time as well as toner. These tests were run entirely over Wi-Fi: both the test computer (Snow Leopard MacBook Pro) and the printer. My router only supports 802.11b/g, so there was no 802.11n magic going on here.
Type: 30 Pages, Text and Images
Resolution: 1200dpi
Printer fires up: 55 seconds
First page out: 1 minute, 9 seconds
30th page out: 4 minutes, 26 seconds
Effective ppm: 6.8 ppm
Type: 30 Pages, Text and Images
Resolution: 600dpi
Printer fires up: 17 seconds
First page out: 26 seconds
30th page out: 1 minutes, 39 seconds
Effective ppm: 18.2 ppm
Type: 30 Pages, Text
Resolution: 1200dpi
Printer fires up: 1 minute, 43 seconds
First page out: 2 minutes, 3 seconds
30th page out: 3 minutes, 17 seconds
Effective ppm: 9.1 ppm
Type: 30 Pages, Text
Resolution: 600dpi
Printer fires up: 17 seconds
First page out: 25 seconds
30th page out: 1 minutes, 39 seconds
Effective ppm: 18.2 ppm
Type: 30 Pages, Text
Resolution: 600dpi with Toner Save
Printer fires up: 13 seconds
First page out: 22 seconds
30th page out: 1 minutes, 37 seconds
Effective ppm: 18.6 ppm
In summary: 1200 dpi is stupid slow and the first minute or so is spent just spooling the printer/sending data to it and you likely won't be printing photos on a black and white laser printer anyways. 600 dpi is the best all-around setting by far. That being said there is virtually no time difference between 600 dpi prints of any type of content.
Complaints?
I have absolutely no issues with this printer. However, picky people will be easy to notice that this printer likes to curl paper. Laser printers get hot (nothing wrong, that's just how they work) and when you're running paper through a hot printer it tends to curl. Apparently the HL-2170W gets a bit too hot and causes the paper to curl up on the sides. I was using 24lb Xerox paper made for laser printers.

A brief explanation of this from HowStuffWorks:
Finally, the printer passes the paper through the fuser, a pair of heated rollers. As the paper passes through these rollers, the loose toner powder melts, fusing with the fibers in the paper. The fuser rolls the paper to the output tray, and you have your finished page. The fuser also heats up the paper itself, of course, which is why pages are always hot when they come out of a laser printer or photocopier.
To combat this issue, there is an option in the software when you go to print called "Reduce Paper Curl." Below is an example of this feature at work. On the left we have a small stack of paper with that option enabled. To the right is a larger stack of paper, all done without any curl reducing setting.
My curious puppy
and her tennis ball in the background.
The result? It kind of works.
Verdict
Setup was ridiculously simple and Wi-Fi support is outstanding. The supplied performance is great for my simple needs (usually typing out letters to mail, the occasional boarding pass printing and printing out of PDFs I want to keep handy for reference). I don't really care about the paper curl issue, which was the only thing I could find and I looked pretty hard. The only other thing that might be annoying is that it comes with a "starter toner" cartridge, which basically means it is half-full and won't yield as many pages as the replacement toner you will end up purchasing some amount of pages later.

Which brings me to this Amazon comment:
Brother has programmed the printer such that when its thinks the toner is empty, it stops working. This happened to me when I was printing some important documents. There is a clear plastic circle at each end of the toner cartridge. The printer shines a light through to see how full the toner is. Simply cover one of them with a piece of opaque tape, and the printer will think that the toner is full. I've already gotten 1500+ pages out of the starter toner that was "empty" at 983, with no difference in printed quality.
Regardless of these nitpicks, the Brother HL-2170W laser printer gets 10 out of 10 Stammys for remarkable value and ease of use.
Do you own a printer? Have you gone laser yet? How much and what do you print? I am always tempted to check out photo printers but I know I will never print more than a handful of photos and be suckered into buying ink every few months.