Review: Blippy ("What are your friends buying?")
Blippy is my pick for startup to watch this year (with Square being close by). Blippy enables people to automatically share their purchases done through a variety of services, such as Amazon, iTunes, Netflix and better yet their credit/debit cards, with their followers. At first glance many will be shocked and wonder why they would ever want to use such a service but that only brings up memories of people saying the same thing about Twitter just a few years ago. The concept behind Blippy is crazy enough that I believe it will take off rather quickly. In fact, they recently announced they are already tracking over 1M in transactions.
My Blippy Profile
- Some aesthetic elements of Blippy are noticeably inspired from Facebook and Twitter, but that's because they work well.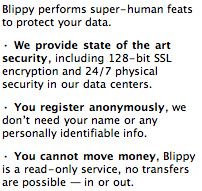 First off, for those worried about the security of providing such a service your bank credentials, it is no different than what Mint does; encrypt your account information and then outsource the rest to a trusted PCI-compliant and ISO 27002 certified service like Yodlee.
Rather than sounding like every other blogger being skeptical of Blippy due to privacy issues associated with sharing such financial information, I fully embrace Blippy and have linked my primary bank account in addition to my Amazon and iTunes accounts. The last decade has proven that people can safely lead completely transparent lives online. First it was blogging, then social networks and the rise of photo and video sharing sites, lifestreaming, Twitter and so on. Let's face it — the majority of Gen Y and Gen X-ers having no problem sharing lots of information about themselves online. I believe social financial data sharing through services like Blippy is naturally the next step.
Linking accounts to Blippy
That's not to say that some privacy elements are critical with a service like Blippy. In fact, they suggest having one credit/debit card as your social Blippy-linked card and have it linked to your Blippy account to share all transactions. I only have one card I really use all the time, so I have that linked and make use of some of Blippy's privacy features like previewing and hiding purchases. I have found that there is often a delay before transactions appear on your profile so there's no worry if you made a purchase you don't want others to see; you can hide it before it goes live, or after.
Arguably the best feature of Blippy is the superior control over what is shared. You can preview and hide purchases manually at your discretion. For example, if you don't want people to know you spent a lot of money on alcohol one weekend...
Blippy is fairly early stage, but I expect them to have a filtering feature in the near future. For example, if I never want my account to show trivial expenses that I feel would otherwise just add noise to my Blippy feed, like filling up at the gas station, or simply purchases that should not be shared for privacy reasons, like gluttonous visits to a particular bar or two, I could make a list of businesses that should never be shared. At the moment hiding purchases is a manual process for each transaction. Users may temporarily pause sharing from a particular card or account though. And of course some users may opt for complete lockdown and have a protected account that can only be viewed by approved users.
Users can see recent purchases by business/retailer
Blippy also gives you some control over purchase names and locations. You can do a quick search to add the location of the business. Unfortunately, I had to do that several times for separate purchases at the same restaurant as there was no way to make a global change to transaction names. However, Blippy does/should notice the same businesses and states how many times users have interacted there.
Blippy lets you rename purchases and add location information. Often credit/debit card purchases have cryptic and not too explanatory names. Also, probably a good idea to pause sharing on your linked accounts when visiting Vegas.
Utility
Okay so you might still be thinking "I use Twitter.. but why the heck would I use this?" Here are a few use cases. For one, you can see if you're overpaying for anything as your friends will see what you bought and paid (certain accounts like Amazon, iTunes and Netflix provide itemized lists of what you purchased instead of just displaying price and business) and be quick to chime in if you got ripped off. They can also point you to helpful resources about that new camera you just bought. In this economy it's a great way to find good deals through your network and comparison shop — albeit after you've already purchased the item. Or Blippy might end up just showing how much money you waste.
So.. does it work well?
Going back to the filtering idea, I think that will be vital to Blippy as it the numbers of users increase by orders of magnitude. If most users simply link all their accounts and don't actively manage or utilize such an automatic filter, your homepage could become very saturated and noisy. At the moment some purchases made by the same person get clustered together and have a small expand link, but I think that's just the beginning.
The homepage of Blippy can be a bit noisy at times with lots of nondescript purchases.
That being said, Blippy works very well with interesting purchases and conversations form around them:
And other times lots of great commentary can be found.
Want in? Here are some invites..
Blippy is currently in private beta and currently has around 1,000 users, according to my unscientific pagination math. I have secured 50 invites to give out (Thanks Ashvin!). Click through to this blog post (for those of you in RSS readers) and the invite code will in be the first comment below. Follow my Blippy account at @Paul.

Thoughts? Would you use Blippy? If so, would you share it all or just a few select accounts? If not, what do you think it needs before you would consider using it?