Review: Apple 27-inch LED Cinema Display
I've had an interesting past with large monitors. Back in 2007 while I was still in college, I decided to purchase a Dell 30-inch LCD display. Astute PSTAM fans noticed that display in the background of my Nike ad. That was back before glossy displays were ubiquitous, when most people had never heard of Mini DisplayPort, when the first generation iPhone had only been out for 3 days (and I still had a BlackBerry Curve) and when I thought Logitech 2.1 computer speakers were the pinnacle of aural excellence. Ah, college. I digress — back to that mammoth 30-inch Dell that educated all of its owners on what dual-link DVI meant. I sold it just a few months later and downgraded to a 24-inch display. Why you ask? I thought it was too frickin' huge! The person I sold it to sold it a few weeks later; he thought it was large as well! I loved the resolution but hated having to move my head around to see the other side of the screen. Maybe my desk at the time wasn't deep enough and I sat too close. But now I'm ready. Ready to try another huge display.
Stammy in 2007 before the
Startup Diet
. The Nike video producers had never seen a display that large before. I recall giving them a tour of apache-top for some reason.
Enter the 27-inch Apple LED Cinema Display (specs). Currently the only LED-backlit 27-inch display capable of 2560x1440 resolution. Dell's comparable 27-incher is more expensive and has a CCFL backlight. Yeah, you read correctly. An Apple product that is actually cheaper than a similar Dell product. This should be interesting.
Unboxing
Thanks to Amazon Prime, I ordered the display and received it two days later. While the display retails for 999, it was only 950 on Amazon (or you can use a student account to purchase it for 950 directly from Apple).
I was overly concerned about having issues with this monitor.. hauling this sucker on the Muni to the Apple Store for repairs would redefine PITA.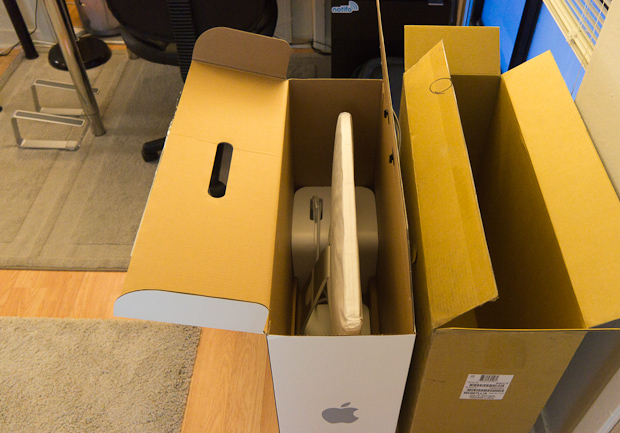 Not much to setup. Just attach the power cord then hook up to your computer.
Setup & First Impressions
I ended up placing my MacBook Pro on top of the display's stand and was fairly pleased with this setup. I had tried placing the laptop under my desk on top of a bookshelf but the cord is barely long enough (which makes me wonder how Mac Pro users deal with having their computer on the floor and away from the display) and the bluetooth connection to the mouse started acting up and got jittery.
In typical Apple display style, the three primary connections are encased in a single fat cable.
The display didn't take over my desk. It didn't feel overly large and only took a few minutes to get used to compared to using my 17-inch MacBook Pro. Looking straight ahead at the display is much more natural than looking down and bending over the laptop. Turning on the display for the first time, I was quickly able to discern it was LED backlit. It instantly came on and full brightness could be achieved easily. CCFL backlit LCD displays take noticeably longer to reach your desired brightness level upon powering it up. My old Dell 2407WFP-HC was like that.
There is no OSD for settings and no controls of any sort on the monitor itself. Not even a power switch. Everything, including brightness, is controlled by Mac OS X. If you are hooking this display up to a PC you will need to install Boot Camp (even if you are not actually in a dual-boot Boot Camp setup).
No surprise here — 2560x1440 is substantially larger than 1920x1200.
The 27-inch Apple Cinema Display is a comparatively thin display but has a slightly thicker bezel than I would like. The USB ports in the back are somewhat handy, but plugging stuff in there without craning your neck around is kind of a blind fumble around. Fortunately, I don't have many devices to plug in.
The integrated 2.1 49-watt stereo speaker system won't replace your studio monitors and lack any sort of high-volume punch. It doesn't help that the speakers are down-firing.

Alas, they are satisfactory for most purposes. I watched several movies with the integrated speakers, with me sitting about 8 feet away. The volume was at about 90-95% to be able to clearly hear voices in the movies. I did discover a sound issue though. The speakers cease working if you disconnect them while the display is on then try to reconnect them. They only continue working after you completely unplug the computer from the display then reattach it. More on that issue on <a href="http://discussions.apple.com/thread.jspa?threadID=2611014&start=0&tstart=0" title="Topic : 27" Cinema Display Sound Issues">the Apple Discussion support forum.
ACD + MBP setup playing 1080p Avatar
The Apple display affords you no fancy adjustability settings. Just a slight up/down tilt (-5 to 25 degrees). That's the one thing I hated about my old 24-inch iMac; I couldn't adjust the height. I ended up getting a hydraulic VESA arm for that. The Apple 27-inch display's height doesn't seem to bother me much yet though I do not comfortably see the top of the display at eye level (what I keep hearing to be the ergonomic preferred setup). I might end up lowering my desk by an inch.
Not for Professionals
Despite the high-end price tag, this display is not for professionals. This is for people that appreciate the Apple aesthetic, the convenience of having an integrated MacBook charger in the display, require an integrated webcam and/or those that do not care about the color profile much and would rather benefit from deep blacks associated with a glossy display while watching movies and other such video content. While LED backlit displays have perks like lower power consumption and "instant on" backlighting, the particular setup in this Apple display is a step down from CCFL backlight setups, such as that found in the Dell U2711.

I'll tell you why. Apple cheaped out and used white LEDs for the backlight (actually a blue LED with a yellow phosphor coating) rather than RGB LEDs. This negatively affects the color gamut of the display. CCFL backlights or RGB LEDs are better with regards to color reproduction for LCD displays, with the latter being rather expensive at the moment. RGB LEDs as a backlight actively adjust the temperature of the white produced. White LEDs on the other hand lack much in the green and red department, which is why professionals deem the Apple 27-inch Cinema Display as having a slight blue tint without performing proper color calibration first. I believe it might be more common to begin seeing displays with WLEDs and local dimming in the near future than a ubiquity of RGB LED backlight displays. Local dimming doesn't fix the gamut issue associated with WLEDs but helps boost contrast.
High quality IPS LCD panel means it looks good at extreme angles.
Moving on, the ACD uses an 8-bit panel. The CCFL backlit Dell U2711 also uses an 8-bit panel but with FRC (Frame Rate Control) — temporal dithering that quickly flips between two shades to simulate shades beyond the native capabilities of the 8-bit panel (only supported by certain video cards). If this all makes sense, you'll probably be more interested in the Dell 27-inch display, the 10-bit Dell U3011 or something in the HP DreamColor line if you can really justify the cost.
3 port USB hub on the back
Glare
The display glass is a (fingerprint attracting) thing of beauty but is surely the largest point of contention with the display. My MacBook Pro has a matte screen and I love it. Glossy, glare-creating desktop monitors are much harder to use than glossy laptop displays because you simply can't move the display easily to adjust the glare. That being said I have oriented the lights in my room to either come from behind the display or way off to the side, but never directly behind me as that causes the most glare. Though I'm afraid that most people will not have the ability to adjust their room lighting easily, such as those working in an office with fixed fluorescent lighting. If that is the case, you will want to avoid this display. At full bore, the glare is really unbearable at anything but maximum display brightness.
Verdict
I purchased this display to get more resolution out of my MacBook Pro while cleaning up the nest of cables on my desk. Now that I don't have to use my charger when at my desk I can keep it bundled up and ready to go in my backpack. I use Skype video chat frequently so the integrated iSight was a must. And when I have some downtime (heh, rarely) I use the display to watch movies as I don't have a TV. That's why I actually like the glossy display. The lack of other video inputs limits how I can use the display. Only my MacBook Pro has Mini DisplayPort. Otherwise I will have to purchase something like the Kanex XD if I want to attach an HDMI device like a Vudu box (and even then it will only support 720p over the connection).

I must say that when Apple announced this display I was actually shocked it was only 999. I could have seen Apple easily charging 1,399. The Apple 27-inch LED Cinema Display is not among the highest performers but it is one of the only 27-inch displays capable of 2560-by-1440 resolution and by far the sleekest display on the market. I find the size to be perfect and am quite happy with it. I give it 8 out of 10 Stammys.

Thoughts? What is your current computer/display setup like? Glossy or matte? Would you consider a large glossy display like this?