WWDC - Apple Unveils Mac Pro, Leopard Sneak Peek
Today was the highly anticipated first day of Apple's World Wide Developers Conference. The major treat at this year's WWDC was the unveiling of the Mac Pro and then the Xserve. Completing the move to Intel processors, the Mac Pro can be configured with 2 Dual-Core Intel Xeon processors running at 2, 2.66 or 3GHz, dual drive bays, and up to a whopping 4 hard drives. Since the code-name WoodCrest based Xeons emit less heat, the Mac Pros don't need to sport any extravagant cooling mechanisms therefore allowing more interior case space. Speaking of which, the case is essentially the same as the PowerMac G5 case with the only difference being extra IO ports on the front including FW800. I was hoping for a smaller case, but I can make do considering how fast this thing will be.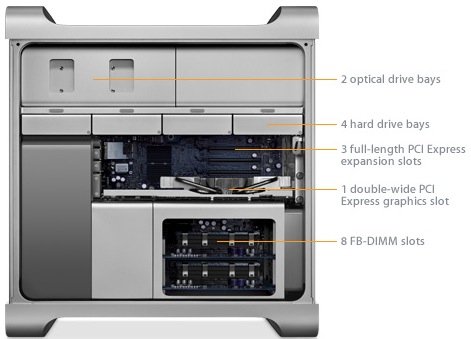 As for pricing, the default Mac Pro configuration starts at 2499 for 2 Xeon 2.66GHz processors, 1GB RAM, 16x SuperDrive, 250GB SATA HD and a respectable NVIDIA GeForce 7300 GT with 256MB RAM. One thing to note is that these Xeon chips are indeed 64-bit. During the keynote Phil Schiller compared this standard Mac Pro configuration to a similarly-spec'd Dell Precision 690 workstation - the Apple was about 1000 cheaper. Check out the detailed Mac Pro PR release at Apple.
The Xserve also saw an Intel makeover, featuring dual Xeons, redundant power and up to 2.25TB of internal storage. As far as other hardware is concerned, Apple did also make a slight price drop on the current Cinema Display line with the 20-inch model coming in at 699, the 23-inch at 999 and the 30-inch at 1999. However, speculation indicates that Apple will be holding a mini-event at Cupertino HQ in the near future to possibly unveil new iPods and Cinema Displays.
Leopard Sneak Peek
This was definitely the highlight of the keynote as Bertrand Serlet went over some of the upcoming features. Before I begin, I want to mention it was stated that Leopard won't be shipping until the spring. You can follow along with Apple's Leopard page. Leopard will have a system-wide backup and restore application called Time Machine which is just amazing. Leopard also brings in a feature called Spaces, which is essentially support for virtual screens. The Dashboard gets a welcomed revamp with a new feature integrated into Safari called Web Clips. Web Clips allow you to create customized widgets of any website - think of it as Microsoft's Active Desktops but in widget form. In addition there is a handy new application called DashCode that makes coding widgets easy.
iChat now has Photo Booth-like features for video conferencing as well as cool backdrops and screen sharing. It also seems that Apple will be putting the Chax creators out of business now that the future iChat in Leopard will have Colloquy-like tabs. The last feature in Leopard is a bulletproof Spotlight search, making it a powerful launcher and supportive of boolean logic with search terms.
I Can't Wait
Throughout the keynote Apple was constantly making jabs at its PC competitors with mentions of Microsoft copying OS X's look and feel for Vista. However, it was all in good fun and I truly believe Apple comes out on top this time. A theme during the keynote was Schiller demonstrating how Apple was busting the myth that Apple computers are overpriced. They were spot on this time and it was interesting to hear that 50% of all Mac purchases are from switchers and first-time Mac users. Well done Apple. Be sure to check out all the pictures from WWDC on Engadget before leaving.