Stammy's Holiday 2007 Gift Picks
Holidays have rolled around again and I've spotted a few things here and there that I'd like to recommend. All of them are somehow related to tech - you won't find me recommending any argyle cashmere sweaters here (I recommend this Burberry piece).
Logitech VX Nano: 53
The VX Nano is Logitech's high-end cordless, laser-equipped laptop mouse. It shares some of the fancy scroll wheel magic that its larger brothers, the VX and MX Revolution, do but it is smaller and runs off of AA batteries. The largest draw of the VX Nano is its commitment to mobility. The USB dongle is ridiculously small and can be stored inside the mouse itself when not in use. The VX Nano also comes with a carrying case - handy when you're commuting to/fro your startup's office, which oddly enough looks exactly like a Starbucks.
SanDisk 4GB SDHC SD Plus, Ducati Edition: 95
SD Plus is a type of Secure Digital with a unique utility - fold the card in half and stick it directly into your USB port. SanDisk came out with their first SD Plus card back in 2005 but for some insane reason SD Plus never caught on. I think it's an utterly brilliant idea that could mean the end of card readers.. oh now I get it. Regardless, snatch up these SD Plus cards while you can, then you can show your friends your tech talent by "snapping" the card in half, shoving it in a USB port and saying "I told you it'd work!".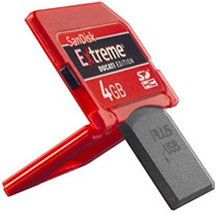 This particular unit is the Ducati Edition and dressed in red like the Ducati motorsports company.
Nike+ Runner's Gift Pack: 129-328
Nike just sold me a UI for running and I love it. - Me in a post describing my love affair with Nike+. Nike is offering two gift packs both including the Nike+ system, a gift card redeemable for a pair of shoes, a gift card for downloading iTunes music, with the larger gift pack including a 3rd Gen iPod Nano (the video one). Perfect for any computer junkie that has forgotten what the world looks like IRL.
Griffin Evolve iPod Speakers: 299
I know what you're thinking.. another stupid iPod accessory. There are tons of iPod-compatible speaker systems vouching for your greenbacks this holiday season, so what makes the Griffin Evolve different? Sound cubes. Yup, sound cubes. The speakers chill in their charging dock and when it's time to jam out to some Blue Oyster Cult, just place them wherever you want in your pad. Each speaker has its own battery and receives music wirelessly from the base. Design-wise it's a winner but audiophiles might complain of sub-stellar audio quality, particularly lacking in the mids and lows department. You can't win them all.
Nalgene Kit Bottles: 18-25
Not exactly a high-tech gift, but Nalgene bottles are pretty cool. These kit bottles add on to their cool factor by packing them with necessities for a variety of situations and consumers: dog, kids, automotive, first aid, heat stress and survival.
Honorable Mentions
This is the part where I link to things I recommend but don't necessarily feel like writing up a paragraph about.

Eye-Fi Wireless 2GB SD Card - Everything you might imagine a wireless memory card to be and more.

Panasonic HDC-SD5 - a sub-1000 video camcorder that records full HD video to affordable SD and SDHC memory cards.

Dash Express - GPS with class. The only automotive GPS unit I recommend. It costs 600 plus monthly service charges but it touts impressive features. Example: you can copy an address in your browser and send it through the cloud to your car. Unfortunately, it won't be for sale until Feb '08.

Dell XPS M1330 - An ultraportable powerhouse from Dell featuring cutting-edge options such as a Solid State Drive and LED-backlit LCD.

Can you recommend anything else? Perhaps that 8-bit tie from ThinkGeek?