Review: Sonos ZonePlayer S5 All-In-One Wireless Music System
For those of you that have been reading for a while (thanks!), it's no surprise that I am a music fan. I wouldn't quite say audiophile as I don't find the need to spend sizable amounts of money on audio equipment, but I always have some music playing and enjoy a high quality audio setup. About two years ago I reviewed the excellent Sonos Digital Music System. The only problem with that setup was the price — just over 1,000 for all of the components. Since then I haven't been able to get back into Sonos' product line as everything was still rather expensive. Sonos hopes to change that with their new ZonePlayer S5, running at 399 USD.
What? Your kitchen doesn't look like this?? Neither does mine. This is a press photo. Pretty sure they used fake ice for that wine.. since when do chilled wine bottles lack condensation?
What is Sonos all about?
While the S5 I'm about to review is great for small apartment dwellers like myself looking for one unit to do everything, Sonos is known for multi-room music systems. That is to say that you can get as many Sonos ZonePlayers as you have rooms in your house (as long as you have something like less than 42 rooms) and they play together nicely. You can control each so-called zone with any of their controllers and most importantly initiate "party mode" that links all of the ZonePlayers together and plays the same song/input over them.
My S5 "loft install." With 14-foot ceilings, I simply placed the S5 on top of one of the walls and it easily fills my bedroom with music. Sonos states the S5 is "designed to sound best when placed 3 to 12 inches from a wall."
Like all Sonos products, the S5 is an Internet-connected music device giving users access to their personal music collections (no support for iTunes FairPlay DRM, but Windows Media PlaysForSure DRM is supported) with support for iTunes playlists as well as built-in Internet radio stations, Pandora, Last.fm, SIRIUS Internet Radio, Napster and Rhapsody. I can't stress how great these services are for music buffs. While several are subscription services, they afford users the ability to instantly find and play just about any music they want. In addition, the S5 can connect to other UPnP servers or NAS devices on the network, such as an Apple Time Capsule.
Playing a new album release with Rhapsody - Sonos Desktop Controller PC application
Going back to those built-in Internet radio stations, right out of the box the ZonePlayer S5 knows of over 25,000 Internet radio stations. I was able to give the Sonos Controller my location (Atlanta) and it listed all of the local radio stations. Stations can be searched by station name, show or host, as well as by music genre or type (Talk or Sports).
Browsing local radio station Internet streams while playing
Even with all of those streaming services, Internet radio stations and my own music collection, I still need access to less mainstream indie music, remixes or mixtapes that are easily found on sites like The Hype Machine, The Sixtyone or The Feel Good Initiative and not-yet-in-the-US-but-I-have-a-beta-account services like Spotify. That's why it helps to have the S5 close enough to your computer so you can connect the two; at least until Sonos does some sort of Desktop Controller integration with Airfoil so you can hypothetically send any audio from your computer to the Sonos without having to run a line in cable.
Sonos Desktop Controller PC application - Line-in Settings
Backtracking a bit to the multi-room aspect of Sonos systems, equipping your house with a Sonos multi-room system can get pricey pretty quickly. Let's say you have a four bedroom house: two S5's in two rooms, an Ethernet-connected ZonePlayer 120 (acting as a ZoneBridge as well) in the living room with some decent loudspeakers and a ZonePlayer 90 connected to powered bookshelf speakers. Assuming you only use the free iPhone app or desktop controller software instead of one or a few Sonos Controller 200's, that setup would tip in at just over 2,000.
That's why I am so curious about the ZonePlayer S5. It's perfectly poised to be a great all-in-one system for the small apartment dweller.
Details
The ZonePlayer S5 is a rather compact system measuring just one iPhone deep, two iPhones tall, about 3.2 iPhones wide and weighing in at just over 9 pounds. Beneath the unassuming exterior, the S5 packs in 5 speakers (two tweeters, two 3-inch mid-range drivers and one 3.5-inch woofer) with each controlled by a dedicated Class-D amplifier.
As with all of Sonos's creations, simplicity comes first. There aren't many controls on the S5 other than volume and mute. There are two LED indicators, a green LED for mute and a white LED for general system status. The status indicator LED can be turned off through the Sonos Desktop Controller application; attention to detail that is important for those placing the S5 in their bedroom and do not wish to have the ceiling illuminated by a bright LED at night.
There are all of 3 buttons on the S5, and they're all volume related. The S5 is meant to be controlled by one of their controllers or applications.
The back of the S5 retains this simplicity, offering only a headphones jack, line in, power and a 2-port Ethernet switch so you don't lose any of your router's precious RJ45 jacks. Here's a neat feature though: if the S5 is wirelessly connected, you can use those Ethernet jacks to connect other devices to your network. I turned off Wi-Fi on my MacBook Pro and connected it via Ethernet to the S5 and it instantly got online.
Rear connections on the S5
I would have loved if there was one more button on the S5 that instantly switched to playing line in. The user wouldn't have to waste 15 seconds on the Sonos controller trying to switch to line in if they simply wanted to hook up a friend's iPod or what have you. While on the subject of line in, if multiple ZonePlayers are linked together they can all play the same line in source connected to a single S5.
If you have a ZoneBridge already, all the S5 needs is power. The other cable was my own audio cable for connecting my PC to the S5's line-in.
Install
My biggest beef with the S5 is that you will need to purchase the 99 Sonos ZoneBridge 100 if you plan on using the S5 anywhere you don't have access to an Internet connection over Ethernet (assuming you don't own any other Sonos devices). That's a bit troubling to me because Sonos advertises the unit as "wireless", which it is but that should be clarified with "wireless, if you already have another ZonePlayer connected with Ethernet otherwise you'll need to buy a ZoneBridge." Chances are that right off the bat this setup is going to run you 500.
The Sonos ZoneBridge 100 allows the S5 and other ZonePlayers to work wirelessly. It's not necessary if you have access to an Ethernet connection where you have the S5 installed.
This is a bit out there - but I would suggest Sonos considers offering some sort of Sonos server software as part of the Desktop Controller software users can install on their 24/7-running computer that takes over the duties of the ZoneBridge 100 (so people don't have to plunk down another 100) for those that already have a wireless network in place and only plan on using one ZonePlayer. Sonos employs a proprietary AES-encrypted mesh network of sorts — dubbed SonosNet 2.0 — to be able to let other ZonePlayers and controllers communicate with each other, analyzing link quality and automatically adjusting network routing. From what I could summize from engineer talk on their forums, it is just software on top of the 802.11b/g radios. Again, just my thoughts and it's probably much more involved.
But I digress.
My glamourous installation of the Sonos ZoneBridge 100 with the rest of my boxes.
Despite my other criticisms, setting up the ZonePlayer S5 and ZoneBridge 100 was incredibly easy. Doing everything from unboxing to being able to control the system, less than 5 minutes transpired. In my case that involved giving the ZoneBridge power and Ethernet, and providing the S5 with power. Then I went through a simple install wizard on the controller application and it prompted me to press a button on the ZoneBridge after which it immediately saw the ZonePlayer.
Performance
With everything installed and working I first tried to setup my iTunes library with the S5. Using the Sonos Desktop Controller shown in screenshots earlier in this review I went to "Set Up Music Library" and added a path where it could find all my music. It then automatically imported my iTunes playlists. Unfortunately, it did not properly respect my iTunes playlist folders. Instead of making folders, the Desktop Controller just made a huge playlist composed of songs from each of the playlists inside of that folder. I was left with a massive list of playlists to browse through.

Slightly annoyed at that, I decided to just make a new playlist in iTunes. I went back to the Sonos Desktop Controller application to check out my newly created iTunes playlist, but alas it was not listed. I had to browse over to the Music menu and select "Update Music Index Now" then wait a minute or two for my new playlist and songs to appear. By default the music index is updated automatically every night.

Afterwards I began setting up my accounts for SIRIUS, Pandora, Last.fm and Rhapsody. No hiccups there. Browsing each of the services is intuitive with a variety of ways to browse or search for artists, albums and tracks. If I had multiple ZonePlayers setup, I would be able to control each of them individually — or all as one — with any Sonos Controller.

Does sound quality degrade with wireless distance? In my limited testing, no. I tested the ZonePlayer S5 wirelessly connected to the ZoneBridge 100 in two settings: my small apartment where the two devices were line-of-sight and less than 15 feet from each other as well as in a house where they were 75 feet and a few walls away from each other. I was unable to distinguish any differences in S5 sound quality or behavior between the two cases.

How long does it take from clicking/tapping on a song in the controller before the S5 starts playing it? Between 1.8 to 5 seconds for most Internet services and usually under 1 second for songs played off my local music collection (tested on two Internet connections, a fiber 80mbps line and a 15mbps cable line).

Has the S5 ever "stuttered" during playback? Yes but only when I was saturating my Internet connection downloading and trying to play songs from my music collection on the S5, all on the same computer. This did not happen when streaming Internet radio under the same network conditions.

Is it loud enough to be my only sound system for my entire 723 square foot apartment? The S5 is good for just one room in my 723 square foot apartment (about 400 sq ft) but anything larger than that and the sound does not travel well. For best clarity, Sonos states the S5 should be placed at the other end of the room from where you will be. Positioning the S5 such that it would fill up two rooms with sound resulted in lackluster, washed-out sound with a very "single-cabinet" and mono sound. The S5 works best in single, smaller rooms. For comparison, my Rokit RP5G2 studio monitors (150 x 2), which use 5-inch primary woofers, are much more capable of producing sufficient bass for a larger room (although studio monitors are not meant for that), compared to the S5's single 3.5-inch woofer.

So the S5 is properly installed in a not-too-large room. How does it sound? While there is limited control over the S5 output (Balance, Bass, Treble and an on/off "Loudness" function), I was still happy with the S5's above-par sound quality. The only issue is that since the S5 is a single unit there is little stereo separation. Sound meant for the left channel or the right channel all kind of mix together. This gets better as you move away from the unit as each speaker is angled slightly differently, but it does not compare to having two separately placed left/right loudspeakers.

Entire range is ever so slightly lumpy with different ranges being reproduced better than others. The S5 is superb at recreating highs through its tweeters, adding a crisp sound on top of a natural mid-range. The S5 could use some help in the bass department though. I perceived it as cold and a bit shallow. It is noticable at high volumes but at that point it becomes boomy rather than full and balanced. In short: it'll be fine for most people at normal volumes, but this is most definitely not the kind of system to fill a room for a party.
Sonos Controller iPhone App
While there are alternative methods of controlling Sonos ZonePlayers, such as the Sonos Controller 200 (349) as well as the aforementioned PC/Mac-compatible Sonos Desktop Controller application, I was most interested by their free Sonos Controller iPhone application.

Some screenshots of the application can be found below. In short: this is a full-featured Sonos Controller, all on your iPhone. It can do almost everything of which the Desktop Controller is capable. Small things I noticed it can't do: turn off the status indicator LEDs on ZoneBridges & ZonePlayers and adjust line in level.
Sonos Controller iPhone App - Menus and equalizer
Nothing fancy here - briefly showing off the app and S5. Subscribe to my
new YouTube account
for more.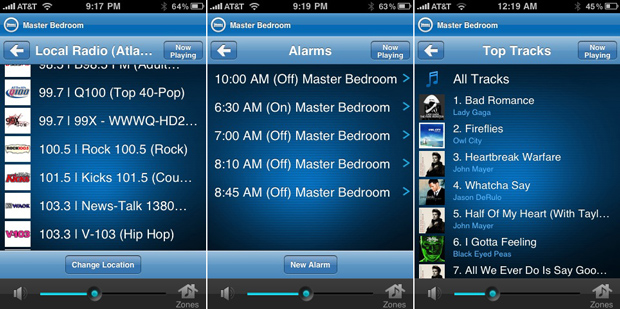 Radio station listing, alarm clock settings, top tracks listed by Rhapsody
Sonos app starting up, Pandora interface, and yes you can send out tweets. This was an autofilled tweet.
In Short: This iPhone app is well executed. I already go to sleep next to my iPhone so now I can conveniently control the music from bed.
Verdict
I will close this review up by bringing in some of the Sonos ZonePlayer S5's competitors into the equation. These include products like the Bowers & Wilkins Zeppelin and Bose SoundDock 10, both of which are 599 and are more or less only iPod docks. At 100-200 cheaper, depending if you need to add a ZoneBridge, an S5 setup performs right up there with its competitors while offering many more useful features and support for a trove of music sources. Then there are products like the single-cabinet virtual surround sound 199 ZVOX Mini that packs a punch with a 4-inch x 6-inch subwoofer, but lacks all of the wireless connectivity and Internet music sources the S5 boasts.

Sonos is not known for making speakers but rather a brilliant wireless system ideal for easy multi-room setup. That being said, sound quality of the S5 won't please an audiophile and needs a touch more low-end frequency response (a subwoofer out jack would be appreciated). If you are in the market for such a device, buy it for its impressive connectivity features, not jaw-dropping sound quality. Don't get me wrong, the S5 is fantastic for adding music to a single bedroom or kitchen but that's about it.

The Sonos ZonePlayer S5 gets 9 out of 10 Stammys — when was the last time your speakers streamed Rhapsody, SIRIUS, Pandora, Last.fm, Napster and more all on their own?

Disclosure: This S5 was on loan and sent back to Sonos after this review. Links to Sonos products on Amazon in this post utilize my associates tag and feeds me delicious coffee every morning.

Is the Sonos ZonePlayer S5 something that would be a welcome addition to your home? What kind of music system do you have in place at home or is it just your computer audio setup? Too expensive or good value?