Review: Slim Devices Squeezebox
Last month I wrote a comprehensive review of the Sonos Digital Music System. While the Sonos is an excellent piece of equipment, it is aimed at the high-end audio audience looking to control multiple rooms with the same device. Meanwhile, the Squeezebox by Slim Devices (a Logitech company) is priced at a reasonable 299 and well-suited for a single room audio setup.
What is it?
The Squeezebox is a powerful audio device harnessing the power of the Internet to deliver music from your own music collection, Internet radio stations and music services, like Pandora and Rhapsody, to your speakers. The Squeezebox is a remarkably small device at only 7.6"W x 3.7"H x 3.1"D. Unlike the Sonos which needs at least one Ethernet connection, the Squeezebox can subsist entirely on your wireless network. It was able to successfully connect to my WPA2-encrypted Wi-Fi network.
I love the fact that the Squeezebox is small enough to have multiple uses. Instead of just being part of your audio system, you could even have the Squeezebox on your desk and use it with headphones - an ideal setup for the college dorm life where many students resort to the use of headphones instead of roommate-angering speakers.
Initial Setup
Squeezebox setup is rather painless assuming you have a pre-existing amplifier and pair of speakers or amplified computer speakers. All you need to do is connect the Squeezebox to your speakers, plug it in and follow the connection wizard on the screen. There are outputs for headphone mini jack, analog RCA, digital optical and digital coax so you should be able to connect any type of audio system.
As I mentioned earlier, you can opt to utilize either an Ethernet connection or your Wi-Fi network. I chose the wireless method and am happy to report that the Squeezebox has had no issues accessing my wireless router 2 floors down. For those worried about distances, the Squeezebox can even tell you what your wireless connection strength is like.
Details
The highlight of the Squeezebox is a seductive green VFD bright enough to display everything from track information and RSS feeds as well as animations like digital and analog VU meters. Since you are heavily dependent upon the Squeezebox's display, there are three different screen orientations (large 1-line, medium 2-line, and small 2-line) as well as several brightness settings.
Overall, I enjoyed the Sonos' method of control via a large remote with a display rather than having to be close enough to the Squeezebox to read the display. But I can certainly live with the cheaper price of the Squeezebox.
Networks
SlimServer There are two "networks" which the Squeezebox may connect to. One is the SlimServer and it involves installing software on your Windows/Mac/Linux box (yup, they support Linux!). SlimServer simply runs a local server on your machine so the Squeezebox can access your MP3, WMA, WAV, FLAC, AAC and Ogg music files. On my Mac, SlimServer was able to recognize my iTunes installation with ease and provide me access to my playlists on the Squeezebox.

(Sidenote: I did run into a slight issue where I had to open ports in the OS X firewall, but the Slim Devices FAQ had that covered.)
The SlimServer software goes the extra step and creates a local website that allows you to fully control the Squeezebox when it's connected to the SlimServer.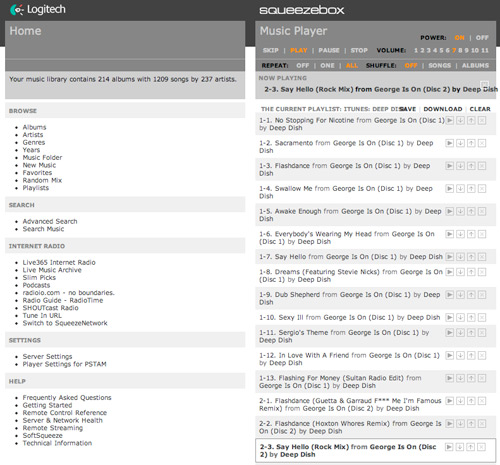 The SlimServer network, also shown on the Squeezebox as Squeezebox Home, has several plugin features. After a while of not interacting with the Squeezebox, a screensaver of your choice may be activated. Currently you may choose from a date and time screensaver, music visualizer screensaver and RSS news ticker screensaver among others. You can also browse podcast directories such as PodcastAlley and Odeo.
SqueezeNetwork The other network the Squeezebox can connect to is the SqueezeNetwork. While the SlimServer dealt with music files hosted on your computer, SqueezeNetwork primarily deals with Music on Demand services and Internet radio (although you can access Internet radio stations in both networks). Support for Pandora Radio, Rhapsody and Live Music Archive is included out of the box. Services like Rhapsody and Pandora do require a paid subscription after the trial period ends.
Not to be outdone by the SlimServer's website, SqueezeNetwork has its own website that allows you to fully control the Squeezebox as well. Through the SqueezeNetwork site you can keep track of your MP3tunes, Rhapsody, Pandora, Live365, RadioIO and RadioTime accounts, control several Squeezeboxes, and play music from any Internet radio station or Music on Demand service on your Squeezebox.
While the website is extremely handy, it needs to be built out more and mature a bit. I found it a little annoying to browse the massive Rhapsody music guide with the way the SqueezeNetwork website was setup. For example, everything important seems to be on the bottom half of the site, below "the fold" and requires a lot of scrolling - small things like that ruin the experience. Fortunately, the website is only complementary and you need not rely on it for anything after setup. Everything that can be done through the SqueezeNetwork or SlimServer websites can be done through the remote control as well.
However, the site does make things like adjusting settings easier than traversing through lengthy menus on the Squeezebox.
Thoughts
So far I have covered the two things that comprise the Squeezebox experience - the SlimServer and SqueezeNetwork networks. One is dedicated to facilitating the access of your personal music collection through your audio system while the latter focuses on Music on Demand services to bring you any type of music you might fancy at that moment. However, you should keep in mind that the Squeezebox cannot play DRM-protected songs, such as those purchased on the iTunes store (not to be confused with the DRM-free iTunes Plus music).

So what about the audio quality? It's great. While that may seem unjustifiable, especially over an online review, I can back that up with some technical details. The Squeezebox's audio circuitry utilizes a 24-bit Burr-Brown (a Texas Instruments company) DAC, well-known for clean output and low distortion, for analog RCA output. While audio quality cannot be attributed solely to such a chip, it definitely helps that Slim Devices is using good silicon. Speaking of silicon, check out the Squeezebox's PCB:
If you don't buy the Squeezebox for its features, buy it for its amazing engineering. Everything it can do is from this compact, well-designed circuit board.
If you look closely at the top middle and top right sections of the board, you'll see that the Squeezebox is wielding dual 802.11b/g Wi-Fi antennas. That's good news if your wireless network doesn't completely penetrate all regions of your house.
Worth It?
When I first received the Squeezebox my first impressions were pretty much as follows: "Damn, this is small!", "Mmm, green VFD.", "Wow, what can't this do?". Those sentiments remain after testing the Squeezebox for several weeks. It is the epitome of an affordable Internet-enabled music device.

I only came across a few things that weren't up to snuff: the SqueezeNetwork website lacks functional usability and the Infrared remote control works but doesn't "go beyond" like everything else about the Squeezebox (perhaps jump on the RF bandwagon and explore various button layouts and form factors?).

Other than that, the Squeezebox is spectacular for its 299 price tag, which can easily be justified if you spend a several hours per day listening to Internet radio/MOD services. Bottom line, the Squeezebox has an easy setup, support for Wi-Fi networks with WPA Personal, WPA2-AES and 64/128-bit WEP encryption as well as SlimServer software with support for Windows, Mac and Linux.