Review: Logitech MX Revolution Mouse
Logitech has always had a strong presence in the high-performance mouse market. They were the first to have a virtually lag free cordless mouse (MX700), the first large company to produce a cordless laser mouse (MX1000), and now the trend continues. Logitech has recently created what they have dubbed as the world's most advanced mouse. Today I will be checking out the MX Revolution to see if it lives up to that epithet.
The MX Revolution will be replacing my recent wireless Mighty Mouse purchase for one reason; scrolling. After moderate use, the Mighty Mouse's scroll ball becomes dirty and will not scroll at all. Short of disassembling the Mighty Mouse, cleaning it is impossible regardless of the Apple doc page suggesting rubbing the scroll ball upside down. On the other hand the MX Revolution utterly excels at scrolling, as you'll soon find out.
Specs
The MX Revolution is a right-handed mouse with 7 buttons not including the "quick-flip" wheel on the left and the main scroll wheel on top. It comes with a charging base and a separate, bus-powered USB stick which acts as a 2.4GHz RF transceiver. The MX Revolution is powered by a rechargeable, non-replaceable Li-ion battery. This mouse utilizes a precise Class 1 848nm performance laser similar to those found on the Logitech "G" gaming series of mice.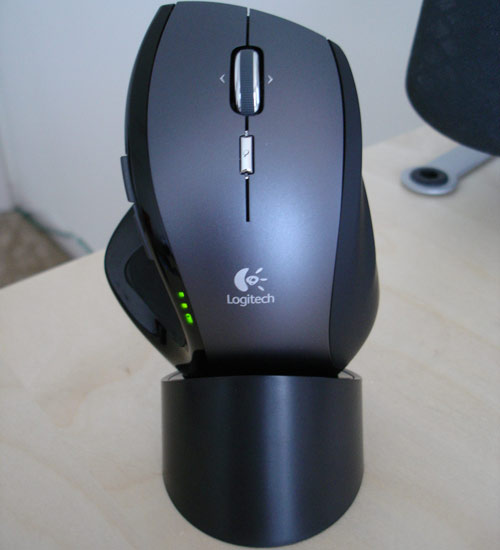 The MX Revolution has a smaller, well-designed charging dock compared to the MX1000's base.
However, the best feature of the mouse lies in what Logitech calls SmartShift technology. Depending on how you setup the options in software, the main scroll wheel has two modes - the regular "ratchet" mode and an uninhibited free spin mode. For example, in the Logitech software (which is available for Windows XP, Vista and as a universal binary for OS X) I have it set to use the clicky ratchet mode until I scroll fast enough, at which point the scroll wheel goes into free spin mode. Free spin is by far the coolest aspect of this hyper-fast scroll wheel as Logitech calls it.

Ryan Block from Engadget comments on the MX Revolution. Clip cut from ScobleShow with permission from Robert Scoble.
Ergonomics
Logitech has always been known for producing well-fitting, comfortable mice and the MX Revolution is definitely no exception. There is a rubber-clad thumbrest area with the document quick-flip wheel and 2 additional buttons within reach. The quick-flip wheel is like a spring-loaded scroll wheel that only goes forward or backward a bit. Logitech wants you to access the Alt+Tab/Apple+Tab interface with the quick-flip but I have found it equally handy just as a scroll device.
Left to Right: Pantech C300, iPod Nano, Samsung A-920, Motorola Q, Apple wireless Mighty Mouse, MX Revolution.
Compared to other cordless laser mice, I don't find the MX Revolution too different in terms of weight. I actually couldn't decide which was heavier - the MX Revolution or the Apple wireless Mighty Mouse with its lithium batteries. I double-checked with Chris and we seem to believe the Mighty Mouse is actually heavier. Moving on, Logitech has generously fitted the underside of the mouse with 4 teflon pads making it glide-happy on most surfaces.
Software
I can't comment on Logitech's SetPoint software for the PC, but the Logitech Control Center for Mac users is very powerful. Users can pair each button with an action, either for global settings or by application. Buttons can be routed to actions such as click, advanced click where a keystroke can be added to the click, keystroke, cruise, switch application, open web page and many more. All in all, there was nothing I couldn't get the software to do. I have the scroll button act as a middle click so I can open bookmarks in tabs (I had to use advanced click with Command), I have one-touch search open my homepage while in Firefox and open a QuickSilver prompt while on the desktop.
If you have specific settings for various applications, the software will detect this and change button mappings on the fly or at least that's what it should do. There are times when it gets confused and defaults to global settings even though Firefox was the selected application. In cases like this, just switch to something else and then go back to your current app. That usually fixes it. Meanwhile, PC users that demand even more control over SetPoint might want to give uberOptions a try.
Worth It?
The MX Revolution can be found online for around 90 USD. The price is definitely on the steep side for a mouse but some people can justify the cost. The MX Revolution has many buttons, capable software for using those buttons how you like, a sturdy, comfortable feel, a small, portable USB transceiver and stellar battery life. I don't think I touched on the battery life, but the MX Revolution is great at conserving power. With a full charge, the MX Revolution lasted me 3-4 days with moderate use. If you have ever used a Logitech G7 mouse, the MX Revolution's battery life outpaces it incredibly.
I think this mouse was a good investment and will let me tame my 24-inch display all the better. The MX Revolution might even be a Photoshopper's dream peripheral by mapping the many buttons to create new documents, cycle through history, etcetera. That being said, this mouse probably isn't worth it if you only check email, talk on AIM and browse the web. Do you think this mouse is right for you? Let me know.

Like it? Tweet it.
"Review: Logitech MX Revolution Mouse" by @Stammy
Tweet

Follow @Stammy