Mini Review: Jawbone Jambox Bluetooth Speaker
Over the past two weeks of traveling I have been using the Jawbone Jambox wireless bluetooth speaker extensively. I have concluded that it is quite possible the best thing ever created for frequent travelers1. Great for filling up your hotel room with sound2 or your playing your favorite beats while showering before that big meeting.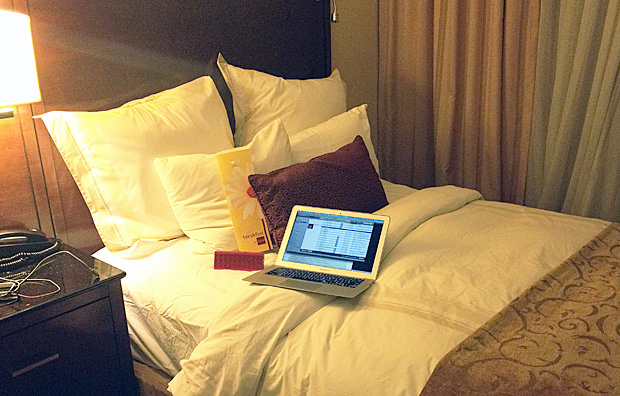 The Jambox playing music via bluetooth from my MacBook Air at the Downtown Atlanta Marriott (3/10 Stammys) — though I usually have it play from my iPhone.
It's small enough to be easily portable yet still packs a punch. So much of a punch in fact that it keeps vibrating on whatever surface it's on and has fallen off various surfaces/desks/what-have-you several times. Much like if you leave your phone on the edge of the table and it starts ringing, it will try to slide off. The bottom of the Jambox really needs some kind of non-slip rubber strip.
With volume maxed out, the Jambox will play your favorite trance sets for about 4-5 hours from a full charge. Not amazing but I didn't really have any expectations coming into this so I don't see it as a negative.

Brief clip of me turning it on/off et cetera... hard to manually focus a DSLR and control the iPhone at the same time so pardon this bad (yet bokehlicious) video.
Would I recommend it?
The Jambox is one of those things I would not buy myself. For a bluetooth speaker, it's very pricey at $199 (though currently $179 on Amazon). I can readily justify spending that much or more on a pair of good quality headphones I'll use everyday, but not so much a novelty wireless speaker.

However, I was gifted the Jambox by Y Combinator and after being more than surprised by this little device I'm torn on whether I could have personally justified the price tag. Probably not. I give the Jawbone JAMBOX 9/10 Stammys for product build quality and performance but 6/10 Stammys for value3. If you travel a lot that may be a different story but I rarely travel these days.
With the flash in this iPhone photo you can see what's inside of the Jambox — two deceptively small speakers.
Click here for a much better picture
.
I have not yet put the Jambox through its paces though, which explains the mini moniker attached to this review. Given Jawbone's prowess in noise-cancellation and bluetooth earpieces, the Jambox can also be used as a wireless speakerphone paired to your mobile device of choice. When I was fundraising for Notifo I found myself having to purchase a bluetooth speakerphone for that exact purpose, so if I was on the phone a lot I could definitely justify the Jambox for that alone4.
Otherwise, you may want to consider something like the Motorola MOTOROKR EQ7 bluetooth speaker. It's larger, not nearly as sleek, takes 4 AA's but does much of the same for half the cost. I purchased that about a year ago to make it easier to do conference calls over bluetooth but ended up using it more for music in the hot tub or bathroom while brushing my teeth.
Thoughts? Do you regularly use any such small portable speaker?
Stammynotes
1 After the iPad of course
2 As long as it's pointed in your general direction.. it's very directional speaker. I found myself trying to prop it up jusssst right so it was pointed right at me. And to be expected with any speaker where both channels are so close together, there's little stereo separation to be experienced. I found this to be the case even with much larger single-unit speakers like the Sonos ZonePlayer S5 I reviewed.
3 Though I haven't had a chance to play with the MyTalk feature, which Jawbone bills as being a platform for having apps on your Jambox. Right now the only "apps" I have installed include a different voice for the dialogs and "Voice Control" to control my iPhone 4S Siri with the multifunction (circle) button.

The Jambox can be updated via the web.
4 Which if I had to give a Stammy rating given my limited usage it would receive 7/10 Stammys for speakerphone quality. I had some issues getting people to understand me.. this goes back to footnote #2.