Review: Elgato EyeTV Hybrid
When it comes to turning your Mac into a multimedia machine with a TV tuner, there isn't much of a choice except for products by Elgato. I'll be taking a look at Elgato's EyeTV Hybrid, an affordable OS X-compatible TV tuner complete with a software bundle. Elgato sent me an EyeTV Hybrid to review, so let the review begin.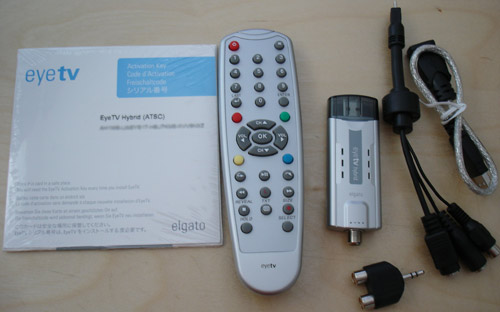 Specifications
The EyeTV Hybrid possesses an attractive form factor - slightly larger and thicker than the Front Row remote. It interfaces with Macs via a single USB 2.0 port and connects to antennas and cable via a female coaxial jack. An included break-out cable allows you to input video to the Mac with S-Video and composite, which opens up the field for attaching a Wii to your large LCD.

More interesting, however, than all of that is the EyeTV's ability to play OTA ATSC HDTV.. eek that's a lot of acronyms, and regular analog NTSC broadcast television. The first of what I just mentioned is over the air high definition TV that's offered in the US - most large broadcast networks offer popular programs in HD without the need for cable/satellite service. CNET has more on receiving HD programming over the air.

Setup
Getting the EyeTV Hybrid up and running took no more than 10 minutes. Insert the CD, drag over the EyeTV digital recorder application, launch it and run the setup wizard after the EyeTV Hybrid is plugged into an available USB port. The wizard takes you through basic configuration and finally autoscans for channels to add. Give it your zip code and it will suck down program guides from TitanTV.
Scanning for channels.
It's amazingly easy to get accurate program listings.
Software
Overall, I was pleased with the interface and ease of use of the EyeTV software. There are two interfaces - one for full-screen and a regular one with a controller companion. The most attractive part of the EyeTV Hybrid for me, besides the form factor, is the ability to easily record TV or schedule programs to be recorded. If you're browsing the program guide and see a show you'd like to record, all you have to do is click on it then add it to your recording schedule - just 2 clicks.
Channel view
Then, when the time for that scheduled recording rolls around, EyeTV will start recording.
However, the recordings do take up a good chunk of space. With the default settings, I used up 2.5GB for 54 minutes of DVD-compliant MPEG-2 recording. Fortunately, recording at this quality allows you to burn the video to DVD if you have Roxio Toast installed, in addition to encoding it for your video iPod. I was able to convert a 4 minute, 185MB video clip I recorded with EyeTV to a 23.6MB H.264-encoded m4v file. After the file was in an iPod-friendly format, it was automatically imported into iTunes for me.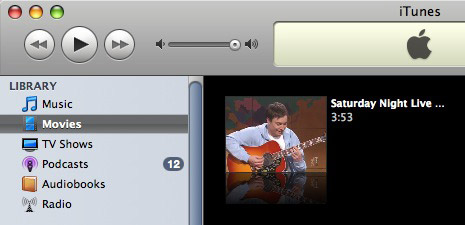 The EyeTV software is also capable of basic video editing.
As you would expect for a DVR application, live TV can be recorded to a buffer, allowing you to fast-forward, pause and all that great stuff. In addition, EyeTV can be controlled via AppleScripts, which make it a great application for any coder to tinker with. An example AppleScript for EyeTV might be the following:
tell application "EyeTV"    channel_change channel number 40    start recording    delay 300    stop recording    channel_change channel number 4    enter full screen    mute end tell
Quality
It's hard for me to judge the picture quality as the Comcast cable line I share with my roommates has more static than my hands after running around on carpet with socks on. However, I have faith in the hardware and believe picture quality would be flawless given a pristine signal. I did, however, mess around with receiving ATSC OTA HDTV signals and found that the EyeTV software automatically increased the size of the window for high definition viewing when it detected an HDTV signal.
The EyeTV Hybrid latched onto an ATSC signal and increased the window size.
Regular, non-HD programming. Blame Comcast for the static.
Full-Screen Viewing
The EyeTV software excels when it comes to full-screen viewing. Just about everything you can do in the regular application can be done in full-screen mode, and is controllable via the Front Row remote (which makes me wonder why another remote is bundled with the EyeTV Hybrid).
Using the EyeTV software doesn't conflict with Front Row at all. When you hit the menu button on the Front Row remote, Front Row appears as usual. It's only when EyeTV is open and you hold down the menu button that EyeTV launches into its full-screen mode.
The interface looks great.
Verdict
Simply put, the Elgato EyeTV Hybrid rocks (and I wasn't even paid to say that!). For a retail of 149.95, the EyeTV Hybrid is a great complement for that Mac Mini serving as your HTPC in the living room or even your MacBook serving double-duty as computer and TV in the dorm. Compared to other TV tuners, the pricing for the EyeTV is right on and the great software puts it in a league of its own. However, as a small nitpick, the EyeTV Hybrid USB dongle tends to get toasty during use.

For the best EyeTV Hybrid experience, you're going to need a Mac with an Intel Core Duo processor or better as well as a good antenna or at least a cable connection without too much static. The processor's speed is important as the EyeTV Hybrid relies on a software encoder for analog TV.

One thing I forgot to mention was that the EyeTV software can export recorded video to a number of formats, not just for your video iPod. There are also presents for Email, Web, iMovie, iMovie HD, iDVD, DVD Studio Pro, Toast, Sony PSP and iTunes. Or, you can roll your own as you like: MPEG Program Stream, MPEG Elementary Stream, DV, DV 16:9, HDV 720p, HDV 1080i, QuickTime Movie, MPEG-4, H.264, 3G, DivX AVI, AAC audio, Apple Lossless Audio.