Last year I reviewed the Vudu set-top movies box and noted how it changed the way I watched movies. Instead of having any preconceived idea about what I wanted to watch, I would just plop down in front of the TV and find something with the Vudu. Taking that as a segue, the Dash Express has changed the way I commute. Rather than scouting for good restaurants to take a date or dive bars to take the posse, I just hop in my car and find something directly on the Dash Express in seconds.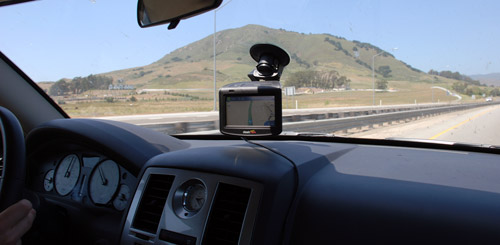 Dash Express on the 101
Claim to Fame
Dash Express Box

The Dash Express is the first two-way Internet-connected automotive GPS navigation device. That means it can receive data from GPS satellites as well as transmit and receive data online via cellular and Wi-Fi Internet connections. At 399 USD, not including applicable monthly charges (as low as 9.99/month prepaid), the Dash Express has the ability to update itself over the network. You're not purchasing another outdated device.
Dash Express: Unboxed
One of the key features of the Express is live traffic collected via the "Dash Driver Network"; each Dash Express unit anonymously updates the DDN with location and speed, helping to update live traffic information. Then there are the newly-launched Dash Apps, allowing users to extend the Dash's feature-set. There are more notable features but I'll get to those shortly.
Sounds good on paper, but what about in real life?
Setup
Out of the box, it takes no more than 10 minutes to get the Dash Express up and running. That involves assembling the sturdy base with cradle, pushing the suction cup on your windshield and locking it in place, attaching the car power adapter and sliding the Express into its cradle. The initial boot up will take a few minutes but after that it's ready to serve up directions.
Dash Express Side
To take advantage of the online features available at my.dash.net, creating an account and supplying the unit's DDN number is necessary. That's also a trivial process.
The Journey: SF » LA » SD » LA » SLO » SF
To test out the Dash Express I rented a car San Francisco for a few days and drove a total of 1200 miles spanning San Francisco to San Diego and back. This drawn-out journey was designed to bring out any and all flaws in the Dash Express and highlight its key features.
Observations
The Small Stuff
I would have liked to see a higher quality car power cable. Compared to the high quality of the Dash Express unit, the cable seemed cheap. It was also rather thick, unlike the power adapter for my radar detector that I am easily able to snake through the panels in my dashboard. I would like to see a thin power cable similar to the stateless rubber used in Apple's power adapters.
In addition, I would like to see a physical power switch on the adapter itself so that I don't have to worry about the Dash drawing too much juice from the car when off. Some cars keep their in-car 12V lines powered on when the car is off while others don't, so not everyone will have this concern.


I want buttons with tactile feedback. The menu and volume buttons on the Dash Express do not move but are rather capacitance touch switches. As such, they only sometimes worked for me. Different temperatures and levels of humidity seemed to alter how the switch worked and the amount of pressure applied to provide an adequate touch. I always kept my finger over the switch after I pressed it in anticipation that my first touch didn't register and I would have to touch it again. This might also be an issue of UI lag, see below.


Chunky monkey - When showing off the Dash Express to friends, one of the first things they comment on is the size of the unit. I'm not going to lie, it's pretty fat. However, I can't complain. There's just more proverbial junk in the trunk - WiFi, cellular and GPS radios to be exact. The 4.3-inch screen isn't too small either. There is also an internal battery packed in there that lasts about 2 hours for when you really want to go mobile.


Bigger Stuff
Lag - When navigating routes with many small turns, I found myself slowing down considerably to let the Dash Express catch up and find out that I had turned, plot my location and give me the next turn before the turn actually comes up. This is by far my biggest complaint with the Dash Express.
After talking with Dasher Robert Currie, I learned this was an issue of UI sluggishness, not hardware limitations. The Dash receives GPS data roughly every second but with only a 400MHz processor and lots of stuff going on, it takes time for the UI to update - something like 5 seconds in my experience.


It's "too accurate." - I was trying to find an exit for the San Diego Bay and the Dash changed directions on me many times, causing me to take at least 4 wrong exits. The reason? It thought I had already veered off the highway slightly and began recalculating the route. It would tell me the right direction eventually but by that point it was too late (<100 feet) to get back on the highway.
In the city, the Dash Express is near flawless aside from the aforementioned lag issue. Accuracy is spot on and I have not experienced the Dash being "a few blocks off" as other reviewers have mentioned. It probably has something to do with where I live and how many satellites it can lock onto.


Highway segmenting - Your journey might involve staying on the same highway for 300 miles but the Dash likes to break it up into shorter chunks. It considers directions like "stay left to remain on US-101" to be different parts of the trip. I would rather just have the visuals show the current portion of the trip as the full 300 miles and the audio signaling for me to remain in the left lanes.


Exit numbers please. - While the Dash generally does a great job of providing the highway exit number in the title bar area, I found that the Dash is unable to provide that information on some highways. Perhaps because it was too small of a highway?


Too many taps. - When providing the Dash Express a desination, there are too many menu screens to go through before the route is actually created and directions are given. Ideally, I would like to set defaults with the ability to customize them later on. I want it to know that I will always say Atlanta, GA and pick the route with the least traffic.


Not possible to add waypoints. - It would be great if I could set a route and add stops for food and gas, without having to cancel the current route and create a new one.
Example of how it usually takes two taps to get the menu button to do anything:
Likes
Search with Yahoo! Local integration - This is the selling point for me. As I mentioned earlier, I can just hop in my car and search for restaurants or check movie times on a whim. It's just plain convenience. Although I wouldn't mind being able to see more information about certain restaurants and places - such as hours open, types of payment accepted and parking availability.
The search functionality is powerful and doesn't just do a string match on the title. Searching for "dim sum" will find places like P.F. Chang's.


Car mount - It's strong, high-quality and sturdy. For best use, mount it as low as possible on your dashboard so that the Dash Express rests on your dashboard and doesn't vibrate/move around.


Route Details - You can get a live ticker of the number of miles left, estimated time of arrival and amount of time left to reach the destination. It's displayed on the lower right corner of the map view.


Light sensor - The Dash knows not to blind you at night and switches to a darker map and lowers the lighting. In the daytime, the opposite is true.


Loud speaker - I've tinkered with other GPS units where I have had to struggle to listen for the directions.


Open Content Platform & My Dash - You're not locked into a dying platform. Things like Dash Apps let the community add functionality to the Express, for free. The My Dash site helps manage the Express and control what apps and saved searches are installed.


Saved searches are ways for you to stick data into your Dash Express. You can make a Yahoo! Local based saved search, a static list of locations or subscribe to any GeoRSS/KML data feed. Bonus points if you create a Google MyMap of every In-N-Out Burger restaurant and subscribe to the KML feed.
Send2Car - No more writing down addresses.
Send To Car
The trip info screen (viewable when tapping the car icon when in route) provides detailed trip information. I like knowing random facts about my trips and the Dash can provide that; information like how long you were stopped at lights during your trip as well as current, average and maximum speeds.
Dash Express Trip Info (*private track)
Traffic Features
The Dash Express
Unlike other automotive GPS units on the market today, the Dash Express is for everyday use. Even if you know where you are going, Dash wants you to use the Express to take advantage of its key feature: TruTraffic. With the Dash Express, you get access to live traffic data from other Dash Express units on the road as well as government-provided and commercial fleet traffic information.
When live traffic data information is not available from other Dash units via the Dash Driver Network, the Express provides you with historical traffic data based on the road and time - and it works pretty well. It has always been able to tell me that North Ave near Georgia Tech is a parking lot at 5pm during the week. To take advantage of the live traffic information from other Dash Express units, there needs to be a tipping point of Dash Express units in your city: around 2-3 other drivers ahead of you on the same road.
So how well does it work? Traffic information is pretty much spot on. There have only been a handful of times when the Dash's traffic data has wronged me and once was an accident that had just occurred and the other was a road closed for construction. I would, however, like to see a button on-screen during routing that lets me say something like "this traffic sucks, find me a route that avoids this street." Sometimes the Dash will popup something along those lines when it detects bad traffic live:
The Dash Express warning me of traffic ahead (live) in San Diego.
It has been hinted that Dash will be slowly adding shortcuts taken by drivers. I think that will be rather spiffy. In addition I wouldn't mind having the Dash learn my driving habits. For example, it always directs me to take North Ave to get somewhere but I rather take a more scenic and safer shortcut through campus.
Verdict: 8.5 out of 10
While I initially docked off a few points for the Dash's lag and usability issues, it gains most of those back with the promise of future features and bug fixes via over-the-air software updates. The open content platform has so much potential. Great companies are already publishing some interesting applications for the Dash. One of the more popular Dash applications lets you find and report police speed traps. Combine that with a Valentine One and a supercar and you're good to go. More information can be found at the official Dash website.

Note to Canadian and international readers: The Dash Express only works in the US and has preloaded maps for all states.