Review: Belkin Cable-Free USB Hub
It was more than a year ago that I first mentioned the terms Wireless USB and Ultra-wideband, in regards to a wireless USB hub from Belkin. The wait is over and Belkin has officially released their 4-port wireless USB hub, dubbed Cable-Free. Belkin just sent me a unit to review, so let me tell you all about it.
Quick Specs
You can see the two antennas and the star of the show, the Wisair 531.
The Cable-Free USB hub (F5U301-HUB) retails for 199.
Ultra-Wideband technology assures a theoretical maximum throughput of 480Megabits/second within a few meters. Belkin claims a 30 foot connectivity range (obviously, the further the hub is from the dongle, the less bandwidth).
Includes: Power adapter for hub, hub with 4 USB ports, USB dongle transceiver, USB dongle dock, software.
Ultra-Wideband transfer speeds are much faster than Bluetooth but will require special drivers and software. Basically how Bluetooth was when it was just getting off the ground.
Built around the Wisair 531 CMOS-based MAC\Baseband chip for UWB solutions. The 531 chip consumes less than 300mW (much less than 802.11n) while operating between a frequency range of 3.1 to 4.8GHz.

Edit: After talking with Georgia Tech EE major Blake Brannon, 300mW is more power than used by most Bluetooth devices (max 100mW consumption) and some WiFi devices (Airport Extreme outputs 20 dBm which is about 100 mW). Also, 300mW is just what the 531 chip consumes, not necessarily how powerful of a signal it outputs.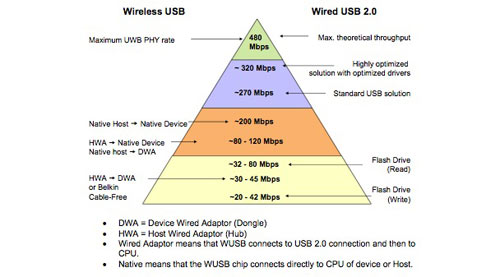 Aesthetics
While it's definitely not a LaCie Huby, the Belkin Cable-Free USB hub has a reasonably-sized form factor and stylish appeal. However, I did find two things rather irksome. First off, the power adapter is bulky and not only that, the power adapter's cable is thick. I realize it has to possess some substance to handle 5V@2.6A but there must be a better way of getting that done.
Secondly, the USB dongle is massively overgrown. Hopefully, the next generation will be able to refine these two qualities to perfection.
Installation
Unlike your typical USB hub, Belkin's Cable-Free hub needs special drivers and software to work. This is quite unfortunate as it limits your operating system to only Windows XP. I tried it in OS X and while System Profiler was able to recognize the presence of the USB dongle, nothing else happened.
I also installed it in Windows Vista. It appeared to work fine and the software even said that it had connected to the hub. I then proceeded to plug in various USB devices - USB stick, iPod Shuffle, HP Laserjet printer - nothing happened either. But that's to be expected as the box labels only Windows XP SP2 as a system requirement.
After a considerable struggle, I was able to get the hub working in Windows XP. After registering the unique hub ID with the software, a connection was established. In my test setup, I had the base station roughly 10 feet away, within line of sight of the USB dongle on my laptop. The signal varied from 60-80%, dipping to as low as 40% at times.
You can see the hub in the back of the picture.
Windows recognizes USB devices on the hub just like it would were they connected directly.
However, more importantly, once a connection had been established between the dongle and hub there appeared to be a considerable slowdown in the system. I only noticed this when a USB stick was plugged into the hub. This happened on two different Windows XP systems with various USB sticks plugged into the hub. Opening Explorer and navigating to the device seemed near impossible. Unplugging the USB dongle sped the computer back up. I was able to view the USB drive in Explorer a few times but clicking on it froze Explorer.
Windows XP seemingly locked up. This reminds me of how Explorer tends to lock up when browsing the network. Before you go blaming Parallels, the same thing happened to me on a standalone XP installation as well.
Fortunately, the slow down only appeared to occur with the USB sticks I had tested it with and worked fine with the HP LaserJet I used. I was able to install the printer and print off several pages with no apparent slow down or anything abnormal to indicate that it wasn't directly connected to the computer.
Thoughts
I had planned on running a removable storage benchmark with SiSoft Sandra 2007 with the Cable-Free hub and a USB stick but whatever I did I was unable to access the drives. I will have to revisit that once Belkin releases stable drivers. I've struggled with this hub for 2 days now, on several computers with 3 different USB sticks to no avail. Somehow, Engadget was able to get this hub working with a USB stick and claimed it was "really slow wireless". It took Ryan Block 8 minutes longer to transfer a file over UWB than when directly connected.

One thing is for sure though, signal quality degrades quickly the further you move the hub from the dongle. Don't expect to get the kind of range you get from WiFi; it's much more akin to Bluetooth's range. I also tested the hub 10 feet away through a wall and was unable to even establish a connection. The current generation of this hub is best used within the same room as the dongle. I was able to establish a line-of-sight connection to the hub placed roughly 24 feet away but it maintained a paltry 10-20% signal strength. Hopefully, better software and drivers will increase performance in the near future.

Coming in at a hefty 199, I don't think too many people will be interested in this hub just yet. I really wished it would have performed better - the technology is there, it just needs to mature a bit. But seriously, how cool does ULTRA-Wideband sound? At the moment, Belkin does not have a support page for the F5U301 hub on their website, but I'll check back periodically to see if newer drivers, software or firmware get released. I recommend you steer clear of the Cable-Free hub until then.

If you're looking for a stable USB hub, I've been using this 7-port USB hub at home and have nothing but great things to say about it.. minus the massive power brick. Those seeking remote USB hard drive connectivity should take a gander at the latest Airport Extreme from Apple which includes a USB port for sharing an external hard drive over the WiFi network.