Review: Agnitum Outpost Security Suite
Agnitum's latest PC security software, Outpost Security Suite Pro, combines the firewall protection of Outpost Firewall Pro with an "anti-spam engine" and "application behavior analysis" for preemptive protection against online threats. Sounds like a lot to claim - an all-in-one security suite? Many companies claim that their software will keep you safe on the Internet but I never put any value into them. I'll be investigating that claim in this paid review.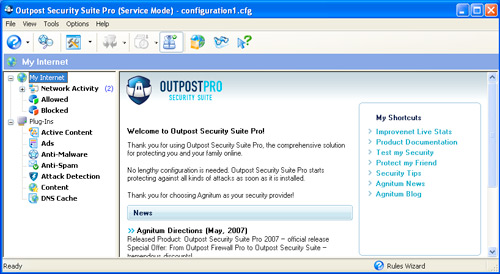 Differences from Outpost Firewall Pro
Upon starting this review, I had a hard time trying to find out exactly how this security suite was different than the comprehensive Outpost Firewall Pro I reviewed about two months ago. For 10 added to the 39 cost of Outpost Firewall Pro, this security suite also offers anti-spam protection, antivirus with "SmartScan" technology and Advanced Host Protection. But what exactly do all those buzzwords mean?
Anti-Spam Protection
Outpost Security Suite's anti-spam protection is, to the best of my knowledge, pretty much identical to their free Spam Terrier add-on for Outlook (Express). It adds a toolbar to your Outlook or Outlook Express application allowing you to flag email as spam or not spam, which in turn teaches it along with the bayesian filter.
As I mentioned in my review of Spam Terrier, I thought it worked pretty well and was a relatively simple add-on to use. But it only works with Outlook/Outlook Express, and a rapidly increasing minority of web users are using Mozilla Thunderbird.
Antivirus with SmartScan Technology
While Agnitum markets Security Suite Pro as having antivirus features, it appeared to me as though it was more along the lines of an anti-malware product, with a lot more mentions of malware than viruses throughout the application. However, Security Suite Pro does keep track of recent virus and spyware signatures, which are used to detect viruses and spyware on your computer.
As for the SmartScan technology, it uses a different methodology when scanning for malware/viruses that while much faster might result in false positives for anti-rootkit tools. For those interested, it only scans the modified portions of your file system, avoiding repeat scans of files that haven't changed since the last scan. Accuracy-wise, I ran a few system scans and Security Suite Pro turned up nothing.. but that's about right for my Parallels XP install that I never boot into.
Agnitum calls this section of Security Suite Pro "360-degree malware defense" and the software is constantly alert, instantly disinfecting any malware found. In addition, email attachments are checked in real time as they come in.
Advanced Host Protection
The last main feature of Security Suite Pro addresses preemptive threat protection. It has a repository of known attacks and can quickly detect and subdue them. Security Suite Pro also alerts you when an attack on your computer has been detected.
By analyzing threats and displaying actionable alerts, Host Protection stops zero-day attacks and shields the computer against inappropriate operations, rendering it "defended in advance" against security risks like botnets and inadvertent data disclosure.
Overall
At 49 for 1 year of updates and support, Security Suite Pro is in the same price range as a similar all-in-one security product, Norton 360, from Symantec. Security Suite Pro does what it says and is very comprehensive in its feature set and capabilities, perhaps too comprehensive. If you think about it, the typical users of all-in-one security software are generally those that aren't overly tech-savvy.

For me, the interface was a bit complex to deal with when I put myself in the mindset of the typical user. There are many windows and panes on top of countless options for each feature. I think it would do a lot better with that crowd if the UI was tweaked and had an overarching "Step 1, Step 2, Step 3" theme so users knew what they needed to do. Though, setup for Security Suite Pro was trivial and everything was done pretty much automatically with the default settings.

This brings me to my next point, in the current tech age do people really need this type of protection? For example, the average web user in my eyes uses webmail, such as Gmail with built-in spam protection and attachment scanning, and their computer is behind a router connected to their broadband Internet connection. You'll be hard pressed to find a modern router that doesn't have a hardware firewall built-in or doesn't support NAT, which in itself is highly effective at trumping network attacks. Smart browsers, such as Firefox, lookout for phishing attacks. The only thing this leaves open for question is malware protection as users can still accidentally install spyware on their computer with all those aforementioned tech safeguards. Bottom line, you'll occasionally need some protection if you aren't too smart with your browsing habits (I'm looking at you mom..), but we are converging to a point where we might not have a need for an all-in-one security suite (especially with the impending Web OS or Web 4.0 as I've heard it called).

As a note, Outpost Security Suite Pro is not compatible with Vista at the moment so if your PC upgrade path involves Vista I would hold out on purchasing Security Suite Pro.

Disclosure: I was paid for this review. Also, I have cut back on the number of paid reviews lately and after talking with Noah Kagan over dinner tonight I'm going to focus on long-term revenue rather than this short-term revenue.