First Impressions: 24-inch iMac
Today I bring to you my first impressions (a pseudo-review) of the Apple 24-inch iMac, joining my first impressions of the Intel Mac Mini and MacBook. Apple is known for taking bold steps and setting the pace for other computer manufacturers every time it unleashes an "out there" product. The 24-inch iMac is indubitably no exception; I mean who puts a 24-inch LCD display in a computer? Apple, that's who.
What We're Dealing With
The base model of the 24-inch iMac comes equipped with an Intel Core 2 Duo clocked at 2.16GHz, an Nvidia 7300GT graphics system with 128MB of GDDR3, a 250GB 3.5-inch hard drive spinning at 7200RPM, and 1GB of DDR2 soaring at 667MHz. So what does that mean for the average user? It only takes 24 seconds to boot up and 23 seconds to shutdown.. and that was with it loading Quicksilver and Google Notifier at boot. A good deal of that speed can be attributed to the full-size, Serial-ATA hard drive which is a completely different beast compared to the 2.5-inch drives used in the Mac Mini and MacBook.
The middle section unscrews to show the RAM which you can just pop in and out.
The Core 2 Duo in the iMac is the latest creation from Intel, featuring 2MB of L2 cache per core for a total of 4MB, which is mammoth compared to "regular" processors. The Core 2 Duo is also 64-bit, so you might be inclined to play around with some powerful 64-bit Linux distributions while retaining the sanity of OS X. Update: word on the street is that the 24-inch iMac doesn't play nice with Boot Camp, hopefully Boot Camp will be updated to support it.
Other hardware specs of the iMac include an 8x Dual-Layer SuperDrive, Airport Extreme, Bluetooth, three USB 2.0 ports, a Firewire 400 port, a Firewire 800 port and mini-DVI for exporting video to another display. The Gigabit ethernet port lets you connect to your roommate's ungodly expensive gigabit switch, integrated iSight means you can annoy him over iChat AV and Front Row lets you relax when he annoys you a bit too much. The included Apple remote can be stowed on the right side of the iMac with the help of a embedded magnet.
Evaluation
The iMac's sheer size is the most alluring quality. Go to your local Apple store to see what I mean. It's just massive - in a good way. The only problem being that I have to sit further back to feel comfortable with using it. With 24-inches you get the 2nd largest Apple display ever (with the 30-inch sitting atop the throne), running at a widescreen resolution of 1920x1200. You can finally play those 1080p HD trailers on Quicktime.com! The display also has a viewing angle of 178° from side to side allowing you to turn your room into a cinema.
Right now I am writing this with the screen's brightness at its minimum and it is still pretty damn bright. Apple wasn't kidding when they said this display is 43% brighter than the previous ones. I find the astonishing brightness of the display to be a huge plus, so don't take my comment the wrong way. However, at night you might want to use Brightness Control or invert colors with ctrl+opt+cmd+8 to keep your retina in check. With the installed iMac color profile, colors are crisp and vivid at all levels of brightness, making the 24-inch iMac ideal for digital media mavens.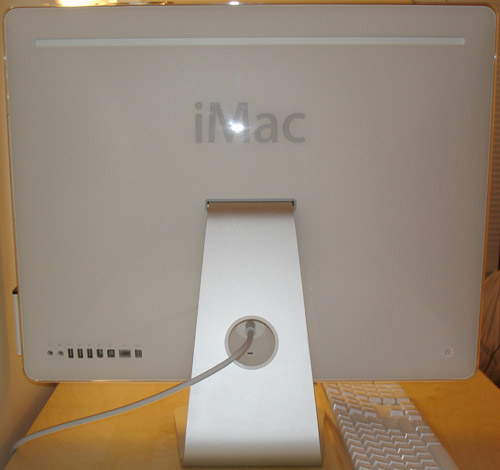 I can't comment on the power of the graphics system as I don't game, but all I can say is that it must be amazing compared to the Intel GMA950 integrated video found on the MacBook and Intel Mac Mini. However, if you're going to be gaming with the 24-inch iMac you will want to be using the native 1920x1200 resolution for excellent graphics and an upgrade to the 7600GT with 256MB of GDDR3 would be well worth it. For more information on the power of the 7300GT, I recommend checking out Macworld's review.
On the subject of upgradability the iMac sits firmly in middle ground. Upgrading the iMac's RAM is an easy process and I was happy to discover that the iMac utilizes SO-DIMM 200pin DDR2-667, the same found on MacBooks and the Mac Mini. However, don't expect to upgrade anything else on your own. I had pondered the possibility of replacing the hard drive with a Western Digital Raptor, an impressive Serial-ATA disk running at 10,000RPM, but that idea vanished as the hard drive is buried deep inside. If you want a nice hard drive, get it from Apple as a BTO option. ZDNet threw up some comprehensive iMac benchmarks, but disregard the Photoshop CS2 test. Why would anyone compare a non-native Mac application to a PC using native software?
However, the iMac sports a rare Firewire 800 port - something that it shares with only the Mac Pro and the 17-inch MacBook Pro. Firewire 800 allows you to attach powerful peripherals from video editing equipment to a 2TB disk array.
One thing I haven't yet mentioned is the speaker system that comes with the iMac. There are two speakers that are cloaked under the metal grill on the bottom of the iMac. They tote 24-Watts of amplification, making them twice as powerful as lesser iMacs. They do get rather loud but the praise stops there. They are pointed in the wrong direction to begin with. The sound bounces off your desk and goes nowhere. I also found that the speakers lack treble and lean towards being high on mid and bass. Needless to say, the combo analog/digital audio output is a nice touch.
If you aren't an audiophile or a college student that vents their frustration with obnoxiously loud music, then the iMac's speakers should do you fine. In the meantime, MAKErs can tape some angled paper on the bottom of their iMac to direct sound to them, not their Ikea desk.
In a Nutshell
The 24-inch iMac coalesces desktop performance with feature-rich functionality. Limited upgradability might deter some users while the massive display will attract many more. At a retail price of 1999 you can take hold of a capable computer with as big a WOW factor as an exotic car. Just make sure you have enough vertical clearance above your desk to fit this thing (you'll want at least 21 inches).
The iMac makes cable management very easy, especially if you up the ante and opt for the Bluetooth keyboard and mouse.