CrazyEgg.com Finally Launches
After nearly half a year of buzz and beta testing, Advantage Consulting Service's creation of Crazy Egg is open to the public. If that name sounds familiar, you might have seen ACS's name floating around when Commentful was launched as that is one of their other successful products. Okay, back to Crazy Egg. Crazy Egg lets you do what no other web application lets you do - track advanced website statistics in a visual environment, or as they say lets you "visualize your visitors."
The dashboard shows a simple test I ran to see some stats on just the index.
You can track clicks on links, advertisements, flash objects and forms on your website. But rather than just the raw numbers that other stat tracking services produce, Crazy Egg lets you see your site's performance with heatmaps and overlays. I had planned on an in-depth review but it seems as though Brian Benzinger of Solution Watch and Neil Patel of Pronet Advertising pumped out some great, screenshot-filled posts while I was enjoying (sarcasm) my first day of classes this semester.
Crazy Egg offers 4 different types of plans including a free plan. The highest plan which I'm currently testing out goes for 99/month and is good for up to 250,000 visitors per month. However, since you can use Crazy Egg on all pages or just a few particular pages, you might not necessarily need the largest plan. The Crazy Egg platform is rather dynamic, allowing you to test a multitude of aspects on your site and adapt them with the results you get. Ideal uses for Crazy Egg are testing out a new design and finding the right placement for navigation links, advertisements, etcetera.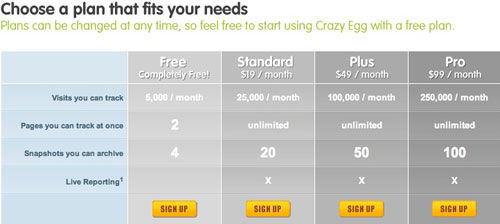 I had the pleasure of meeting the entire Crazy Egg/ACS team during my stay in California this summer and I am definitely impressed with what they've rolled out. They took their time to get (most of) the bugs out and it really shows with this launch. Right now they are actively seeking feedback, so I'd encourage you to at least sign up for a free account and test it out.