Webmaster Jam Session Coming to Atlanta
It's finally happening. A big tech event I've actually heard about before is coming to Atlanta. It's called Webmaster Jam Session and it is a forum for designers, developers and the rest of the lot to exchange knowledge and socialize. I usually don't use my blog to spread the word about events like this but I'm rather excited to finally learn from and meet web legends I've followed online for quite some time. I'll backtrack a bit first and explain Webmaster Jam Session.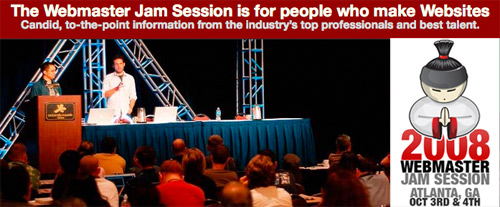 Actually, I'll just quote what's on their website.
A two day event with some of the best Web designers, developers, marketers and visionaries in the world. Learn about the latest ideas and trends in Web design, development, search engine optimization, and social media. You will make new friends, get answers to your questions, learn a lot, and be inspired
Some speakers I'm looking forward to meeting include Nathan Smith, Dan Rubin, Jeff Croft and Chris Pederick (remember the Firefox web developer extension?). Now to the point of this post: there are limited spots so if you even live a few states over, definitely consider attending. Unfortunately, it's not often we get this kind of thing in Atlanta. Thanks to CoffeeCup's J Cornelius for letting me know about this!
What was the last tech/web dev conference you've attended?
Disclosure: I don't receive any kind of compensation for spreading the word about Webmaster Jam Session, I just want people to experience it too. That being said, if you use the code "BLUEDOG" it'll take 20% off registration.

Like it? Tweet it.
"Webmaster Jam Session Coming to Atlanta" by @Stammy
Tweet

Follow @Stammy