Thoughts on the MacBook Air
I had the misfortune of having a flight back to Atlanta during the same time the MacWorld 2008 keynote was set to take place. As soon as I landed I turned off airplane mode on my iPhone and loaded up some Apple news sites. First I saw an image and brief description of the MacBook Air and was relatively pleased, then I started reading more.
For more photos, check out
Gizmodo.com's Hands On
.
There were no doubt many announcements at today's MacWorld Stevenote but for most people, MacBook Air takes the cookie. Other announcements included a wireless NAS dubbed Time Capsule and an Apple TV software update supporting HD iTunes movie rentals, Flickr browsing capability and more. The iPhone also receives a software update as well as iTunes to support movie rentals (apparently no HD rentals in iTunes just yet).
0.16 to 0.76 inches thick?!
What exactly is the MacBook Air? It's an unbelievably thin 3lb notebook toting a 13.3-inch glossy LED-backlit display, 2GB of RAM, a 1.6GHz Core 2 Duo processor (1.8GHz C2D is 300 option), a larger touchpad with multi-touch capabilities, a 1.8-inch 80GB hard drive (64GB SSD is a 999 option), 802.11n Wi-Fi, Bluetooth 2.1 + EDR, and an iSight camera. It does however lack an Ethernet port and optical drive (not much of a loss with Remote Disk software allowing you to "borrow" another networked computer's optical drive).

The MacBook Air looks absolutely stunning on paper. A thin, minimalist (only a MagSafe port, USB port, micro-DVI port and headphones jack with the latter three stowing away when not in use) notebook by Apple - what more could you want? A decent price for starters. Placed between the MacBook and MacBook Pro in the MacBook family, the MacBook Air starts at 1799 - I certainly didn't expect that. I think their new ad campaign goes a little something like this...
MacBook Air: The only thing we didn't shrink was the price.
If money wasn't an issue, most geeks would be obligated to spring for the speedy 999 solid-state drive option, putting the price closer to 3,000. I absolutely understand the pricing situation though. New tech, especially ridiculously small tech, is expensive. Apple even coaxed Intel into reworking their Core 2 Duo processor to be 60% smaller, just for the MacBook Air.
Turn Offs
Nothing is user-replaceable. You get 2GB of RAM - that's it. You can't change it. The hard drive is the same way. It's buried deep within the machine and unless you have a propensity for voiding warranties, you're stuck with it. Oh and you guessed it, the battery can't be replaced. Over a number of cycles battery life gets worse so you'll inevitably be taking your MacBook Air to Apple to replace the battery in a few years.

The worst part about this for me is that I can't bring extra batteries for when traveling or scuttling around conferences and consuming Wi-Fi. Well didn't Steve say the battery lasted 5 hours? Yeah but he also said MacBook Pros get 4 hours of battery life, which as we all know is an absolute best case scenario. Typical use such as live blogging your favorite Mac conference would generally shed an hour of battery life from that 4 hour estimation. My estimation is the MacBook Air will have perhaps 4 hours of life. For a notebook so perfectly poised at being the ultimate travel computer, not being able to have spare batteries is a huge turn off. I would be able to put all of these issues to the side if Apple could somehow squeeze a 1440x900 resolution on the 13.3-inch display.

However, unlike Devin Coldewey at CrunchGear, I won't be docking any cool points from the MacBook Air for not being an overly speedy notebook.
Next, the processor. It's fantastic that they've managed to micro-size the Core2 Duo, but for any kind of serious work — video and audio editing, watching HD video, playing games or emulating Vista for work — even my MacBook Pro is barely pulling it, and it's got the Air under its thumb processor-wise. Not to mention that RAM is totally un-expandable; serious Photoshoppers will spend a lot of time waiting while they use that nifty multi-touch to zoom into their 400MB uncompressed PSDs.
News flash to Devin people don't buy ultraportable notebooks for their workstation-like performance. Enough said.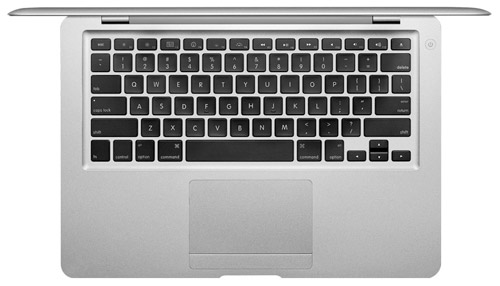 Verdict
Do I want one? Hell yes. Would I pay for one myself? Nope. What about you?