Last week I got a copy of Vista Business edition through my MSDN Academic Alliance account at Georgia Tech. Obviously, I was compelled to install it and test it out. I was able to successfully get a dual-boot OS X and Vista setup working so I bring to you today, The Vista Challenge. I will be using Vista for an entire day and will see if I can do so without booting into OS X. I will be chronicling my experience and challenges, so be sure to keep coming back for updates.
Disclaimer: This post might be considered biased by some. I do have a shirt that says "I visited the [Apple] mothership."
The Timeline
2:20 PM Just woke up.

2:34 PM First boot. I've been waiting a while for all these default gadgets to load up. I find it funny that the "Feed Headlines" gadget only lets you choose between 3 Microsoft feeds.

2:35 PM Feeling triumphant as I learned how to disable the Windows sidebar.

2:45 PM The time is off and unlike OS X, Vista doesn't automatically sync the time online, it has to wait until it's scheduled to do so - ~once a day.

3:03 PM The sound doesn't work even with all the drivers Vista has. I've been eying my iPod across the room for the last few minutes.

3:10 PM Just installed Flash, Firefox & WinSCP and learned of the annoying "need your permission" security feature that grays out the rest of the screen and doesn't let you do anything until you respond to the dialog.

3:24 PM I really like the Snipping Tool that comes with Vista. However, it can't do timed screenshots.

3:30 PM Reading Chris Pirillo's article about Vista tweaks.

4:21 PM I agree with what David Pogue says in the New York Times. Vista does have some fancy graphics - tons of transparency, a 3D window flipper (which, IMO is not as useful as Expose), etc - but the rest is annoying clutter. I've found Vista confusing and many of its features could have been implemented in a simpler way.

4:27 PM Number 3 on PC World's Windows Vista: 15 Reasons to Switch is particularly fascinating. Just hover over a window in the taskbar and a live thumbnail of that window will appear. Live as in live - if you have a word processor thumbnail, you'll actually see the cursor blink. If you're watching a movie, the movie will be playing. Unfortunately, it doesn't seem to do that with YouTube or other flash videos. After a reboot it does display flash videos in real time as well.

4:37 PM Installing Google Talk, Gaim 2.0.0 Beta 6 and Joost.

4:39 PM Joost gave me an error and won't run in Vista, darn.

4:44 PM Sound Works! No idea why but it just started working on the iMac. I am very happy. Time to install iTunes and listen to my roommates' music and/or iTunes radio.
4:58 PM Playing around with Windows Media Player and URGE. "Meh" comes to mind.
5:08 PM Reading up on BitLocker - the drive encryption that comes with Vista Ultimate. I have no need for BitLocker as I plan on loading up Vista through Parallels via Boot Camp so I can't encrypt it. Unfortunately, the current release of Parallels can't access Vista through Boot Camp.
5:19 PM I found a workaround for getting Joost to run on Vista.
7:21 PM Starting to have Textmate withdrawal symptoms. What do Windows coders use as their text editor - Notepad++?
7:24 PM Just tried to play "The Illusionist" DVD which I picked up from Best Buy today. Windows Media Player 11 doesn't like it.
7:30 PM The Ribbons screensaver reminds me of the default OS X screensaver a lot...
7:46 PM DVD is chugging along nicely in VLC player.
8:09 PM Setting up newsgroup and email access for my school accounts in Thunderbird. Noticed there was a new assignment for a class and downloaded the associated .doc file. Downloading OpenOffice.org Writer so I can open the .doc file.
9:11 PM First application freeze. Vista makes the foreground of the frozen application white, pretty neat effect. Ironically, the frozen application was Firefox and it occurred as I launched Microsoft's Small Business Resources site.
9:23 PM I found the need to print out a homework assignment and had to add my HP Laserjet printer in Vista. I began by installing it via the Control Panel with the built-in drivers Vista has. It "installed" but nothing happened when I tried to print a test page or the document. I deleted that printer and tried to reinstall it, but this time with the drivers from HP's website. No go. So, is Vista's corporate slogan now "Vista: Printers are overrated"?
9:49 PM I don't have Photoshop installed so I've been using SnipShot for basic cropping and image manipulation, then I discovered that Windows Photo Gallery can do that too.
9:51 PM I've become fond of the iTunes controller in the taskbar. OS X needs something like this. There are add-ons like Menuet, but I feel it should be built-in.
11:39 PM About to head back to OS X to get some coding done; I don't think I can do without Textmate and Transmit, but that's just me.
Final Thoughts
Vista is a substantial improvement over XP. If you're currently running XP and want to experience a more productive (file tagging, 3D window flipper, search boxes in just about every window and a revamped explorer) operating system you'll no doubt want to give Vista a try. Now, I will say this. If you aren't running a respectably beefy computer Vista will seem slow; very slow at times. You can always disable some of the Aero graphics effects though.

For example, Vista can benchmark your computer and give you a performance index. My 2.16GHz Core 2 Duo iMac with 256MB Nvidia 7300GT (low-end) graphics scored a 4.7. To give you some context, Microsoft recommends scores of 2.0 for office productivity needs, with scores of 3.0 and higher optimal for graphics-intensive applications, gaming and media center usage (which comes with Vista Ultimate).
Laptop users will enjoy Vista's enhanced features for mobile systems with redesigned sleep and standby modes.
Microsoft devoted a lot of time and attention to security and user safety in Vista; that's obvious with Windows Defender and Windows Security Center. Features like these for the casual user will get me to put Vista on my parents' computer and both of my sisters' computers. However, some of the security precautions become annoying for advanced users - but they're advanced enough to know how to disable them.
So I've described some of the better parts of Vista, but inevitably there are things I don't like about Vista. The Explorer just isn't the same. The main folder navigation takes the backseat while "Favorite Links" take up some space on the top. I would rather have an uninhibited view of my folders without having to scroll much.
Next up, the start menu doesn't sit well with me. Similar to the folders in Explorer, your programs are now confined to a scrollable area instead of expanding out. Oh and I forgot to mention, the wireless connection manager is much nicer. Microsoft made it blatantly simple and easy to use.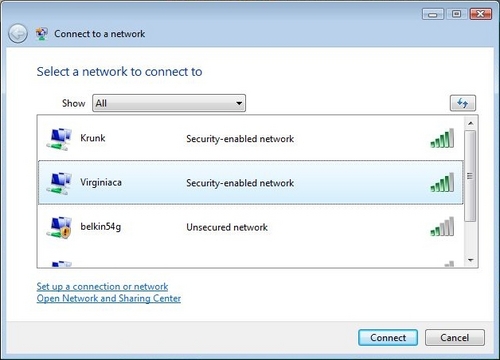 To wrap things up..