Startup Riot 2008, painstakingly organized by Sanjay Parekh, went down yesterday and I must say this was the first big tech event in Atlanta that I have been to or heard about. There have been some tech events by the Technology Association of Georgia and SoCon 08 but nothing as in touch with the local tech community as Startup Riot has ever graced Atlanta.
Image taken from
Sanjay's Startup Riot Flickr set
.
Startup Riot was held at the Twelve Hotel ballroom in Atlantic Station, not more than a mile from Georgia Tech's campus. It was a top-notch networking event bringing together many tech entrepreneurs, job seekers, investors and people in the industry to talk about startups. Just shy of 60 startups presented in a strict 4 slide, 3 minute format throughout the day. The day started with a speech by Fark founder Drew Curtis. Someone will have to fill me in on that as I didn't make it to Startup Riot until noon. Videos of each pitch will be posted online eventually and I'll update this post when that happens.
Skribit Pitch
That's me.
I pitched for Skribit. While I had prepared something elegant to say, I think it came out as awkward and abrupt, especially as I speak way too fast (a habit picked up from being the youngest of three and having to speak fast to get my point across). However, after talking to some people afterwards, my pitch was well-received. Most presenters at Startup Riot had suited up, while I was wearing shorts and a "That's what she twittered" shirt. It was a change of pace from the other presentations; I was to the point and even managed to get a good laugh from the audience.
Based on the conversations I had with people afterwards, they were most interested in Skribit's growth. With a small, completely bootstrapped team (Calvin, Erik, me and Lance as advisor), Skribit has grown to serving over 100,000 pageviews per day. Props to Darren Rowse for getting the ball rolling. We have many things planned for Skribit in the future, so please bear with us if you are a Skribit user.
Interesting Companies
After the event wrapped up there was an after-party at Nelson Mullins law firm, on the top floor of their building no less.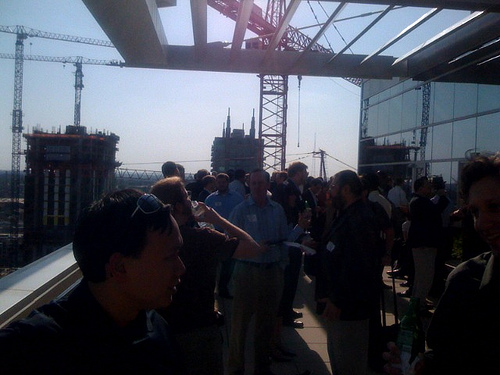 Startup Riot was so good I almost ran out of the business cards that I brought with me. Props to Andrew Hyde for suggesting I write about Startup Riot.
Be sure to check out Lance's coverage of Startup Riot as well.