Review: Sprint HTC EVO 4G Android Phone
For the last week I have been toting around two mobile phones: my usual iPhone 3GS workhorse with extended battery a la Mophie and the just-launched-today Sprint HTC EVO 4G on loan from Gregory Miller. This is my first time touching an Android device for more than just a few minutes. As such I think I'm interestingly posed to show a different perspective on the EVO from MG Siegler's thoughts in his recent post entitled "An iPhone Lover's Take On The HTC EVO 4G." Similarly, the EVO 4G has received tremendous press as of late — mainly as it has geared itself as being the "it" phone of the month as well as the first 4G WiMAX phone ever.
The lovely HTC Sense UI upgrade adds lots of polish to the Android OS.. perhaps too much?

This post will sort out my likes and dislikes about the phone rather than serve a full review. If you don't have time to read this entire post, here's a summary: huge phone with subpar battery life and a great camera.
Pros
Huge screen and small bezels are usually the recipe for a slick product but I miss a bit of bezel useful for holding onto while taking pictures. I would often accidentally hit the button while trying to take a picture.
4.3-inch TFT LCD WVGA (480x800) display is great for consuming media and superb for the Google Maps Navigation app. Also, big screen = big keyboard = easier to type on.
Sprint Mobile Hotspot app (Android 2.2 includes similar hotspot functionality)
Kickstand!
Dual cameras: 8-megapixel autofocus rear camera with dual LEDs for flash, and a front facing 1.3-megapixel camera great for Qik and Skype (via Fring currently). Rear camera shoots 720p HD video.
Sprint network much better than AT&T, at least in San Francisco.
Plays Flash! (barely.. should get better in Android 2.2)
FM Radio
1GHz processor makes things snappy. Every Android user I've shown the phone to said it felt much faster than whatever Android phone they had. Froyo should make things even faster.
Google Voice integration (this is a general Android feature but a huge selling point for me)
The rear of the EVO houses a sturdy kickstand, dual LED flash, protruding 8-megapixel autofocusing camera and speaker.
Cons
HTC Sense UI add-on means that Android updates must come from HTC, not immediately OTA from Google.. so you might have to wait months to receive the lightning fast Android 2.2 "Froyo" update. Nexus One owners already have Froyo.
Pricing issues: 4G capability invokes a mandatory 10 price premium. Mobile hotspot functionality also incurs a whopping 30/month additional fee but no data caps (yet).
Lackluster battery life (about 4 hours with my use - about the same as my overworked iPhone) and the rear battery cover is flimsy plastic held in place by some small clips that are sure to break soon.
microSD card awkwardly placed under battery. Not that you need to take it out too often or anything. Just plug microUSB cable into EVO and tell Android to use in disk mode.
Camera lens protrudes from the EVO's body such that resting it on a flat surface causes the metal rim of the lens to make contact.
Power button is almost flush with the body and not very ergonomic. Could be easier to push.
Android apps are nothing like iPhone apps. Most are crap. One of the most popular apps is a task killer application to keep things running smooth, or at least that's the claim. I have noticed the phone get slow to a crawl at times unless I keep an eye on how many apps are open, despite Android's stellar memory management.
Look ma, no hands!
Camera
While the 4G WiMAX is what Sprint and HTC are promoting the heck out of with the EVO, that means little to me in San Francisco where a 4G network isn't slated to emerge for about a year. The next most impressive hardware feature in that case is the camera. I place a lot of importance on my cell phone's camera. My iPhone currently has over 5,000 iPhone-taken photos on it. The iPhone is not happy with that situation and is very slow. It's not meant to be used for anything more casual use. The EVO's camera is by far the best phone camera I have ever used. Best "phone camera"... what does that mean? It means that the pictures look good enough up to around 1600px wide. After that you can see some compression artifacts and grain. For the most part, given sufficient lighting conditions you can leave your Point & Shoot camera at home and have good enough pictures to throw up on Facebook. Of course, there's no real physical zoom with the EVO so zooming in will just look pixelated.


Camera settings galore!

The flash is very bright, so much so that it will wash out people/subjects in close proximity. Autofocus has a harder time in low lighting so you have to be patient while it focuses. For the most part the camera interface is slick and snapping pictures is lighting quick compared to the iPhone with the exception of autofocusing. The front-facing 1.3MP camera is nothing to write home about but affords users the ability to finally do video chat. I tested it out on a 15-minute video chat on Skype via Fring and it worked quite well. Though my mother did mention there was a slight video delay (I was on my WiFi network).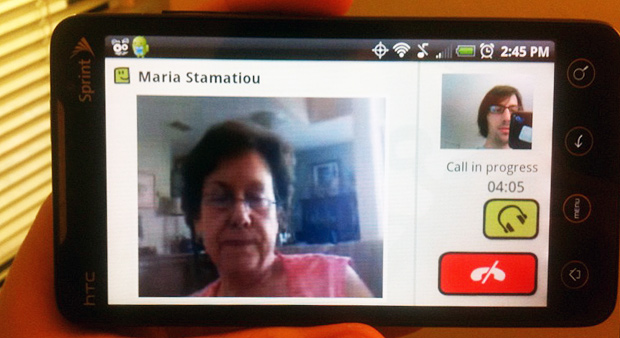 My mom would not be flattered that I blogged this picture..
EVO-taken Photos
EVO-taken 720p HD Videos

I was randomly at 3rd and Market when Obama's massive motorcade drove by.

Golden Gate Bridge as seen from Land's End Trail near Ocean Beach

Great view of SF from the de Young Museum Tower
Verdict
I went to Best Buy today (EVO launch day) and waited in a long line for about 15 minutes before leaving the store without buying anything. I didn't want the phone that bad. To get an everyday-usable phone setup I would need to get a case to protect the protruding lens, external battery pack so that it would last more than 4 hours and a handful of micro-USB cables to keep around the apartment, with my laptop, in my bag with an extra charger and so on. That would start to get pricey.

Even more so, I really wanted the mobile hotspot feature without paying the 30/month premium. That is available in Android 2.2 which I could get on the EVO with a few hours spent rooting it and installing a Sense-less Froyo, or with some other Android phone. The cheapest EVO 4G plan with mobile hotspot is 109/month — rather high. My iPhone bill is currently ~90/month due to add-on 15 text messaging.

So I'm going to wait. Wait to see what Steve Jobs announces on Monday. Regardless of how paradigm shifting the rumored iPhone 4G is I do not see myself purchasing it if it is still tied to AT&T. Dual cameras. Neat. 960x640 IPS HD display. Great. AT&T. Fail.

This was a rather quick review and I left a lot of information out. Let me know if you have any questions about the phone or Android in general in the comments and I'll reply!

Thoughts? Do you currently have an Android phone? Which? What network?