Review: Sprint UpStage Mobile Phone
With a retail price of only 99, Sprint's new Samsung M620 UpStage phone offers incredible value with some highly touted abilities. In this review, I'll let you know whether the UpStage mobile phone is worth your trouble. Sprint sent me the UpStage as part of their Ambassador program. You might remember last year when I participated in Sprint's first phase of their Ambassador program and took a Samsung A920 for a test drive. Hopefully Sprint's latest UpStage offering will perform better.
Form Factor/Aesthetics
For comparison: My Pantech C300 ("world's smallest camera phone") and the UpStage.

I remember when I first received the UpStage about 2 months ago. I picked up this package at the student center on my way to class. I hurriedly opened up the boxed and was amazed at the size of the UpStage. To say it is small is like saying a mountain is big - it just doesn't do it any justice. The UpStage is 0.37-inches thin, 4.07-inches long, 1.73-inches wide and weighs under 3 ounces. Impressively, it's only slightly larger than my 1st Gen iPod Nano.
Subtle chrome accents round out the stealth black appearance of the UpStage.
Features
As you can tell from the name, the UpStage is centered around being a media device. It seems as though Sprint wanted to take their music store to the next level by pushing out the UpStage. The Sprint Music Store, which can play audio through the UpStage's internal speaker or through headphones via an included dongle adapter, is the highlight of the UpStage's software. The store provides over-the-air song downloads, which take about one to one and a half minutes per song on average with the EV-DO connection.
The UpStage also lets you play music in the background while you text message or surf the web. Unfortunately, the phone only comes with a whopping 64MB MicroSD card (about one CD of music), so your music will have finished playing before you're done browsing. I really don't understand why Sprint/Samsung doesn't include a larger MicroSD card. Just browsing on Amazon I spotted a 512MB MicroSD card for under 10. The largest you can go with the UpStage is a 2GB card.
In addition, Sprint bundled a PC application called Sprint Music Manager that allows you to, well, manage the music on your PC and UpStage. The most useful feature of the software is the ability to upload unprotected songs from your computer to the phone.
Continuing with the UpStage's multimedia theme, there is Sprint TV and the ability to play streaming music from Sirius, VH1 and MTV. However many of these channels tack on an additional monthly service charge that I doubt many people will want to pay for. 9.99 extra per month for "Sprint TV Live"? No thanks, I'd rather indulge in a foot long Quizno's sub once per month. However, if you do get suckered into find value in these add-on channels, you'll be able to enjoy them with the UpStage's vibrant 2.1-inch display which I'll expand upon later.
As for the quality, it has improved substantially from what I remember with my experience with the Samsung A920. There are times when the video will be choppy/hang and it takes about 20 seconds for the video to initially buffer and load before it can begin playing. However, after endlessly browsing through the channels and content offered on Sprint TV I don't see any value. Much of the content is just a bunch of short clips - nothing you can really sit down and watch on your CalTrain ride from San Jose to San Francisco. Regardless of the limitations (small screen, loading times), I don't think mobile video as implemented in Sprint TV can succeed unless the content is worthwhile. Where are my full-length episodes of 24 and Heroes?
Camera
To my surprise, the 1.3MP camera on the UpStage is outstanding (for a cell phone camera). It also takes video clips but with my experience those weren't anything special. Not much else to say about it, but here are a few example UpStage pictures taken while on a mobile scavenger hunt on Georgia Tech campus for my social media course last semester.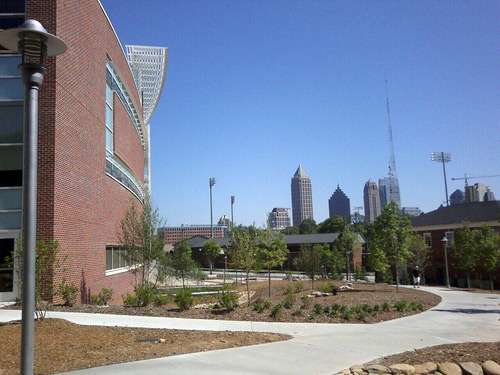 Compare those to pictures taken by my old Motorola Q, which also had a 1.3MP camera. In general, it appeared that the Motorola's pictures tended to have washed out colors.
The Main Attraction
The UpStage has turned heads with its dual-sided design separating media functions from phone functions. One side has a very small LCD along with all the usual phone buttons while the other side has a much larger display, and a touch-sensitive navigation pad.
But if I'm browsing the web on the "media" side, how can I enter text? You'll quickly become familiar and annoyed with "flipping". Whenever you want to enter text, you'll often be prompted to flip the phone which turns off one screen and turns on the other and enables the buttons on that side of the phone. In day to day usage, this inconvenience was a deal breaker for me. I often browsed the web with the UpStage and constantly flipping the phone to enter new URLs got old very fast.
The "phone" side.
Alternatively you may choose to battle it out by entering text with the "media" side but this method of text entry is rather slow.
The "media" side.
The touch-sensitive navigation pad found on the "media" side caused the most aggravation for me. Sometimes it was too sensitive and sometimes repeatedly pummeling it with my finger wouldn't even register with it. You have the ability to adjust the sensitivity from 1 to 5 but I could not find a setting that made it just work. Combine that with a UI that seems a tad under performing (although, don't get me wrong it's much faster than the A920 from what I remember) and you'll often press the pad one too many times and have to go in the opposite direction because the phone is always a step behind you.
As an example, if you're browsing through the menu and you accidentally select something like On Demand, you'll have to wait for it to load before you can exit. If Samsung had skipped trying to be fancy with the touch-sensitive pad and just stuck with traditional buttons that provide oh-so-satisfying tactile feedback, they could have saved money and created a better phone.
Wrap Up
Sprint's marketing of the Samsung M620 as a do-it-all yet reasonably priced media device is changing the industry. The UpStage is, to my knowledge, the first phone with such powerful features and unique design to sell for 99 (can be found for 49 with rebate). Also, Sprint has since restructured pricing on their music store from the A920 days where each song was 2.49 - songs are now 99 cents and can be downloaded over-the-air. They really want people to use their phones as more than just phones.

In my post about the A920 I talked about how using a phone as a media device is pointless and that most people carry iPods with them anyways. I still stand by that. The music player on the UpStage takes 4-8 seconds to open up and then 2-3 seconds to load a song you want to play. It's just not a viable music solution at the moment. Do you rely on your mobile phone for media playback?

The usability of the UpStage is fundamentally flawed with the necessity to flip the phone. The quirky touch-sensitive, feedback-less pad also detracted from the phone's ease of use. Considering the features, price and drawbacks I would give the Sprint UpStage a 7 out of 10.

Oh I forgot to mention the battery life. With the internal battery you'll get about 2.5 hours of continuous talk time. However, Sprint bundled a great case with an integrated battery which boosts the continuous talk time to 6.3 hours. Okay, so what does that translate to in real world speak? Relatively crappy battery life. You can always use the battery case but you'll look like an idiot talking with that thing on.
I also forgot to mention the UpStage has bluetooth support that allows you to utilize its EV-DO Internet access capabilities on your computer.