Review: Nikon D90 DSLR Camera
Last week I made the upgrade from the Nikon D80 to the new Nikon D90. The D90's claim to fame is that it is first DSLR camera to feature video recording. This lets me consolidate my gadgets as I just gave back my loaned Samsung SC-HMX10C HD camcorder. The D90 bundle comes with the new Nikon 18-105mm VR lens and retails for around 1,300 USD.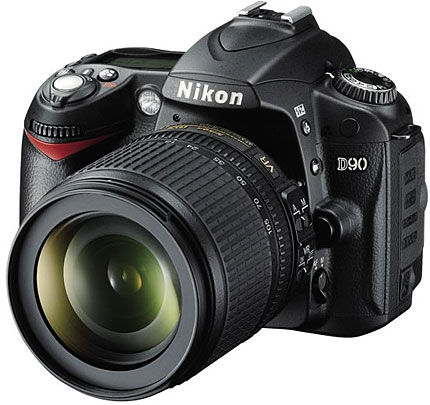 Basics
Some of the highlights of the Nikon D90 are below:
12.3 megapixel CMOS with integrated dust reduction
3-inch rear LCD
Live View
D-Movie video recording up to 720p (HD)
Face Detection
18-105mm VR lens
Support for external GPS module
Active D-lighting
Great ISO range and low-noise shots
4.5 shots per second
Before I jump right into the D90's video recording, I must stress how much of a leap the D90 is from the D80 in terms of still photography features and performance. First off, it comes with a VR lens. Not many lower-end Nikon kits have come with this type of lens, which stands for vibration reduction. It makes for a great general purpose lens, but as Ken Rockwell points out it's "Nikon's fuzziest lens in the corners at 18mm." That being said, if this matters much to you, I'd just buy the D90 body and opt for arguably one of the best all-around lenses, the 660 Nikon 18-200mm VR lens.
The first thing I liked about the D90 was the upgraded screen. It's considerably larger and makes it easier to see if your shot was a success without digging in too deep. Next, I love Active D-Lighting. I only know a few things here and there about photography, so having it automatically adjust settings and "preserve details in highlights and shadows" and create photos with natural contrast is a big plus.
Then I noticed an Eye-Fi option in the menu. The D90 supports the Eye-Fi wireless SD card right out of the box, so you don't have to dig through settings to get it to work properly, as you did in the past. However, I did notice one problem with using the Eye-Fi on the D90. It isn't fast enough to save videos and holds up the camera for up to a minute when saving a recorded video.
The D90 totes features first introduced in cameras like the D300. For example, Live View is now offered on the D90. Live View brings back the familiar point-and-shoot style of shooting where you can use the LCD as a viewfinder. And with the D90's spiffy 3-inch rear LCD, it's fun to use. The main benefit of using Live View is being able to fine tune what your photo looks like by being able to zoom in digitally and then see how you should adjust your focus and other settings to achieve the look you're going for. However, in Live View mode auto-focusing is very slow as the D90 tries to use face detection.
Nikon D90 Live View - Using LCD as Viewfinder
As I stated in my Nikon D300 post, most hobbyist photographers won't use Live View.
Video Recording
Once in the Live View mode on the D90, you can tap the OK button to begin recording a video clip. While the idea of being able to record video on a DSLR where you can swap out lenses and fine tune advanced settings (things that would only come with a camcorder costing many thousands) is awe-inspiring, the video recording implementation on the D90 has some deal-breaking drawbacks.

Example videos in HD: Kickball game pan, Jeep off-roading in Utah

In HD mode (720p/24fps in an .avi file) the D90 can only record a maximum of 5 minutes, otherwise the CMOS sensor will overheat. Standard definition will let you roll for 20 minutes. Right off the bat, it's no replacement for a regular HD camcorder for most uses. Autofocus only works before you begin recording, so after it starts recording you'll have to manually focus when necessary. And last but not least, the infamous "rolling shutter/jelly motion" issue. When moving fast, the video appears to flex noticeably. This is due to the CMOS sensor having a slow read-reset - a general problem with still cameras. You won't run into this issue much if you do graceful pans and use a tripod instead of rapidly turning it around.

So there you have it. Video recording, or D-Movie as Nikon calls it, in the D90 is more of a "look what I can do" feature rather than a full on replacement for your camcorder. It's neat to play around with and record a few short clips, but I wouldn't want to have my parents record my college graduation with it.
Example Shots
I took the D90 with the VR lens to one of my kickball games and to a Skribit meeting at Octane Coffee. Here are a few photos that stood out from the rest. Photoshop only used for cropping and resizing. You can click for a larger version.
Piedmont Park, Atlanta, GA. Taken with included 18-105mm VR lens.
Piedmont Park, Atlanta, GA. Taken with included 18-105mm VR lens.
Me at Octane Coffee, Atlanta, GA. Taken with Nikon 28-70mm lens. Could have been better with a bit less exposure, natural light in front of me.
Octane Coffee, Atlanta, GA. Taken with Nikon 28-70mm lens.
Thoughts
The Nikon D90 is a substantial step-up from its D80 predecessor and boasts features previously only found on the Nikon D300 and D3. However, the D90 is aimed at budding photographers with a bit of money to invest and as such Nikon has added features that point-and-shoot users have come to expect like face detection, live view and video recording. While these features are welcomed additions to the D90, I still think they have some work left before they can even be considered key selling points.

Regardless of those issues, the core still photography utility is fantastic and makes the D90 a great platform for any amateur photographer. Pick up a nice lens and filter and you'll be very happy. That being said, I recommend you buy the D90 body alone and pick out your own lens. The Nikon D90 gets 9 out of 10 Stammys.

Note: I have yet to be in a situation to test out the low light and high ISO aspects of the D90, which are apparently amazing.

What else would you like to know about the D90? I'll answer in the comments. What do you think is the best all-around lens?