Show Off Your Social Media Accounts
Having trouble keeping track of the 37 social media services you use daily? Having an even harder time recalling your profile URL for those 12 social networks you use when a friend asks for it? Don't worry, now there is Show Yourself.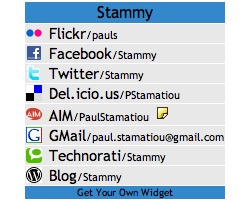 Show Yourself is a lightweight widget by Dustin Bachrach, that displays all of your accounts, profiles, usernames, etcetera. It's styled similarly to the MyBlogLog widget, so if you're already running that it should match up. You also have the option of hosting the widget yourself so you won't experience the sluggishness of other website widgets.
Show Yourself is similar to the widget offered by Wink, but Wink requires that you have an account and their widget is a blatant Wink advertisement. As of now, the Show Yourself widget only has a select number of services to add, but Dustin told me he'll be adding more soon.

Like it? Tweet it.
"Show Off Your Social Media Accounts " by @Stammy
Tweet

Follow @Stammy