Calgoo - Standalone Google Calendar App for Windows
Tech startup Calgoo has just released the "First Draft" of their innovative software that allows you to manage your Google Calendar account in a full application. There are several advantages of taking your calendar from a web-based experience into an application. First and foremost, you can keep track of your calendar while offline, which is vital (to many).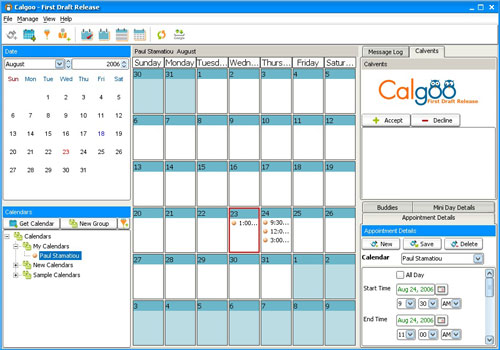 The freeware program requires that you make an account through them to be able to download and run the program but after that you can login with your Google Calendar info. Unfortunately, there is always a risk associated with letting your Google account login information go through a third party such as Calgoo. That aside, I'm really not a fan of Calgoo's user interface. Lower resolution users in mind, it really does not work too well. The color scheme and layout felt tacky to me and did not look like your normal Windows XP application, however I think that can be attributed to the fact that it is a Java application (which makes me wonder why it's currently Windows only).
After I had logged in with my Google Calendar account and synced/imported calendars, it took me quite some time to get the calendar to even show. Things like that shouldn't be the case with calendar software. Even the technically-inclined Adam Pash at Lifehacker was unable to get the calendar to show:
For some reason the calendar would not show up - I was able to create new appointments and sync them with my Google Calendar, but I could never actually look at the main calendar.
Also, for some reason Calgoo would not recognize events that I had set to repeat and would only display the events the first time they were scheduled. Apart from the UI pitfalls, Calgoo does have some redeeming features. It has a filter which should come in handy for those tackling many events, as well as an interface for sharing calendars with friends.
Calgoo Could Be a Success If They...
Ditch the need for a Calgoo account and private Google account info going through them
Massively redesign the application focusing on icons, colors, graphics and an HCI-tested UI
Take some hints from the gCal design in the aforementioned bullet (it would be great if they kept a similar design - using Calgoo makes you think you are using something completely different. That shouldn't be the case, it's just an extension of the whole gCal interface for desktop integration)
Reduce clutter
Stop trying to think they are better than the Web 2.0 bubble by saying "First Draft"